Firefighters finding first responder cancer presumption law not so presumptive
Denials of veteran firefighters' claims warning shot for younger generation

By
Max Efrein
|
mefrein
Originally Published: November 8, 2018 9:40 p.m.
As Don Devendorf was having a kidney stone removed in 2016, the surgeon didn't like the look of his bladder. A sample was taken and tests revealed he was exhibiting very early stages of cancer.
In Arizona, if a firefighter develops one of 19 different types of cancer, state law assumes the disease was caused by his or her job and the firefighter is supposedly eligible for workers' compensation. This law was first passed in 2001 and then updated in 2017 to expand the list of presumptive cancers and clean up some of the language. Similar laws have so far been enacted in 32 other states, according to the First Responder Center for Excellence.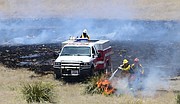 At the time Devendorf was diagnosed, bladder cancer was one of the listed presumptive cancers in Arizona, so he believed he would qualify for worker's compensation given his 35 years as a professional firefighter in the Prescott area.
But that's not how it went down. The claim was denied based on the opinion of an independent medical examiner in Phoenix he was assigned to. The opinion stated that Devendorf's cancer may have been the result of his use of chewing tobacco for many years. This is despite the fact that while bladder cancer has been linked to smoking tobacco, it has never been directly linked to chewing tobacco.
"So basically, he just made up science," said Devendorf, who filed an appeal, but once again, he was denied due to the physician's opinion.
He considered taking the case to court, but was advised by an attorney that it likely wouldn't be worth it for several reasons. One being that judges in the state almost always side with the physician's opinion.
Tom Whitley, an attorney in Arizona who helped draft the updated version of the presumptive cancer law and has handled a sizeable number of related court cases in the state, vouched for how heavily a physician's opinion weighs on the matter.
"The firefighters have to have a doctor who, number one, will come in and say, 'yes, they not only have the cancer, but they've been exposed to toxins that are ranked by the IARC (International Agency for Research on Cancer) as a carcinogen, and that those carcinogens caused or contributed to the cause of the cancer,'" Whitley said.
Devendorf was also told that it was likely not worth going through the lengthy and expensive court process given he caught the cancer early and is already receiving some coverage from the Public Safety Personnel Retirement System (PSPRS) cancer insurance program.
Because Devendorf had been paying into the PSPRS cancer insurance program a number of years, he was immediately given $15,000 after his diagnoses, and all costs associated with his bladder cancer are covered up to $100,000, he said.
While that insurance may be sufficient for Devendorf's fight, he doesn't believes it's enough for other firefighters who are facing deadlier, more advanced forms of cancer.
"There's other guys who get the real deal," he said.
Whitley said Devendorf's predicament is not unusual.
"Right now in Arizona, we're having to go above and beyond to get some of these presumptive cancer cases approved," Whitley said. The problem, he said, is not with the statute, but with the approval process.
"The statute doesn't require perfection," he said. "The statute just requires more likely than not that a patient developed cancer as a result of their work-related activity."
However, firefighters are having to take extensive measures to prove the cancer is related to their occupation and not some other "non-industrial" cause, such as chewing tobacco in Devendorf's case.
"The Arizona presumption law, as it sits right now, is guilty until proven innocent," Devendorf said. "Instead of presuming that it was your work that caused it, you have to prove that it was your work that caused it."
This is mainly done by filling out exposure reports, which firefighters are encouraged to do after every incident involving time spent in and around smoke or other chemicals.
Having heard stories such as Devendorf's, local firefighters are taking these exposure reports very seriously.
"Chances are, one of us is going to get cancer," said Central Arizona Fire and Medical Authority firefighter Aaron Corbiere, referring to himself and two other firefighters participating in a recent training exercise. "One out of three of us is the current statistic. It's not a matter of if, it's a matter of when. So once that happens and once we've filled out all of those exposure reports throughout our careers, now we've got all of the documentation to take to whatever workman's comp company it may be."
But many forms of exposure weren't clearly understood until recently — and more studies are being done. For instance, just a few years ago, the City of Prescott tested the air quality in all of its fire stations and discovered measurable concentrations of known carcinogens found in diesel fuel emissions, Devendorf said. The city has since put scrubbers in all of its stations to remove such chemicals from the workplace environment.
This type of long-term exposure to carcinogens was not something taken into account when Devendorf was denied his claim, he said.
"[The medical examiner] didn't look for the things that I can prove that I've been exposed to that are on file; he didn't care about that," Devendorf said. "He instead chose something that doesn't have any scientific background to deny me."
While he was forced to bite the bullet in his case, he hopes sharing his story will at least help bring some attention to a system he believes is flawed.
"I'm just a firefighter who thinks this system is flawed and needs to be reviewed so people after me don't have to go through people making stuff up and using whatever games or trickery they can use to keep from compensating people who have been doing a dangerous job," he said.
"Somewhere you have to take into consideration that real life people are being injured by this."
More like this story
SUBMIT FEEDBACK
Click Below to:
This Week's Circulars
To view money-saving ads...