Town will consider distracted driving ban Thursday
Four water issues on council study session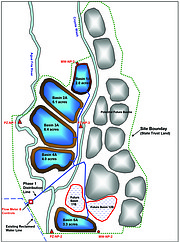 A proposed ordinance on distracted driving will come before the Prescott Valley Town Council for a first reading at the council's Work Study session 5:30 p.m. Thursday, Nov. 8. The ordinance is similar to those recently approved by the Yavapai County Board of Supervisors and the City of Prescott.
The proposed ordinance deals with prohibiting the use of any mobile communication device with either hand while driving a motor vehicle, including while temporarily stopped because of traffic or a traffic control device, with certain exceptions. Motorists are allowed to use hands-free devices.
Exemptions include use while safely stopped on the side or off the highway or street; communicating with public safety, law enforcement, fire, rescue or medical personnel relating to emergency situations; communications by safety and medical personnel in the course of their duties; and activating or deactivating hands-free use of a device.
Those with commercial vehicle licenses operating fleet vehicles may use two-way radios for work-related duties, and others with a valid amateur radio operator license may use two-way radios.
Violations are considered civil traffic violations subject to a fine of $100 for the first offense and up to $2,500 (as determined by the judge) for subsequent violations within 12 months of a prior offense, in addition to state surcharges that might apply.
If the council agrees, a second reading and possible adoption may occur at the Dec. 6 council meeting, which could place the ordinance into effect Jan. 5.
In other matters, the council will consider the purchase of a parcel of land valued at $37,000 belonging to Humboldt Unified School District on the grounds of Coyote Springs Elementary School. The town plans to build a well on this one-third acre property.
The town is looking at another parcel of land inside Section 27 immediately adjacent to the west property line of the Viewpoint subdivision. The town already has purchased a number of parcels in this section as well as Section 34 for future well sites.
Council will look at exchanging a current well site, Little Pete Well, for a different parcel owned by Arizona Eco Development LLC about a half-mile to the west. State law allows acquisition of property by exchange if the two parcels are substantially equal in value.
Also involving a water issue is consideration of the construction of two new basins at the North Plains Recharge Basins produced by the town's wastewater treatment facility. High water tables have limited two of the five existing basins.
Building two new basins will replace lost recharge capacity from the other two basins, all of which are located on state land the town currently leases. Design and permits will cost an estimated half-million dollars, and the low bid for construction came in at $271,017 by Earth Resources Corporation.
The fourth water-related item on the agenda is discussion on the construction of juniper silt dams to control erosion. The town is the fiscal agent for the Upper Verde River Watershed Protection Coalition, which accepts grant money for projects.
The Coalition is looking to place cut juniper and other brush into washes and arroyos, and to study the use of juniper chips in wattles, long tubular netting, to reduce silt runoff from construction sites. The project will take place on state land.
The Study Session begins at 5:30 p.m. Thursday, Nov. 8, at the Prescott Valley Public Library auditorium/council chambers, 7401 E. Civic Circle, Prescott Valley. The public is welcome to attend the meeting.
More like this story
SUBMIT FEEDBACK
Click Below to:
This Week's Circulars
To view money-saving ads...