Republican incumbents win new terms in Arizona Legislature
Unofficial results show Fann, Campbell, Stringer with substantial leads

Originally Published: November 6, 2018 11:42 p.m.
Three incumbent Republican legislators appear to be headed to new terms in the Arizona State Legislature.
And one of those District 1 legislators — Karen Fann — could be in the running for president of the Arizona Senate.
By about 9 p.m. Tuesday, Nov. 6, the Arizona Secretary of State's website showed incumbents Sen. Karen Fann and Reps. Noel Campbell and David Stringer all with substantial leads over their Democratic opponents.
With about 97 percent of precincts in Legislative District 1 reporting, Fann had a 52,802-to-23,159 vote lead over Democratic challenger Jo Craycraft.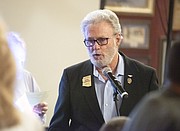 Also with 97 percent of the precincts reporting, incumbent Rep. Noel Campbell was leading the field of four candidates — by more than 2,000 votes over fellow Republican David Stringer, and by more than 25,000 votes over Democrats Jan Manolis and Ed Gogek.
By just after 8 p.m. the crowd of supporters gathered at the Palace Restaurant and Saloon on Whiskey Row cheered the early leads by Republican legislators, as well as the apparent win by U.S. Congressman Paul Gosar.
Fann, who was seeking her second term in the state senate, said after hearing the results that she plans to make a bid to become the chamber's president.
"I have 11 solid votes — if we hold onto the Senate," she said after Yavapai County's results were announced Tuesday night.
A vote for the senate presidency likely will occur Wednesday, Nov. 7. If she becomes the leader of the senate, Fann said a major goal would be to "try to reunite the parties, so we're able to have good, solid conversations again."
In recent years, she says, "The rhetoric has gotten way out of hand, and the attacks are not acceptable."
Fann attributed her win for another senate term, in part, to the "Republican stronghold" in Yavapai County. "We are conservative, and I believe in keeping taxes as low as possible," she said.
Down the street at the Hotel St. Michael, as a crowd of Democratic supporters watched the evening's results, Craycraft expressed disappointment with the senate vote.
"I think I was by far the best candidate," Craycraft said, maintaining that she has a "much broader knowledge base about the state and the world" than does Fann.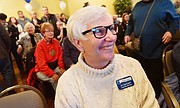 Craycraft added that she hopes that Fann follows through with her intention to work with the opposing party. "I hope she does decide to work across the aisle and be more progressive," she said.
Campbell, who was leading the field of representative candidates Tuesday with 48,604 votes (to 46,150 for Stringer, 22,853 for Manolis, and 21,162 for Gogek) said afterward that he attributes his win, in part, to the fact that "I think people realize I'm trying to do the best I can do and move the state forward."
In the coming term, he plans to focus on finding ways to generate more state revenue for transportation. The current gas tax has not been adjusted since 1991, Campbell said, and the state's roads have suffered.
"We have to figure out a way to keep even," he said.
Campbell added that he plans to conduct a stakeholders' meeting in January to discuss methods of raising more transportation revenues.
Stringer told the crowd at the Palace that he feels "personally vindicated" by the win, after a difficult campaign.
"It looks like I have prevailed," Stringer said after the initial results were announced. "It was a long, hard campaign, and my opponents threw a lot of false allegations at me."
Stringer maintains that "the No. 1 issue in Yavapai County is immigration, by far." And even though it is a federal issue, he said, "The state can be supportive of what the federal government wants to do."
From the Democratic gathering at the Hotel St. Michael, Manolis said her campaign focused largely on health care — "to get better providers and keep what we've got" — as well as on support for education and schools.
"It seemed like the people didn't have a voice," Manolis said.
Gogek was out of the area and unavailable for comment at press time.
Follow Cindy Barks on Twitter @Cindy_Barks. Reach her at 928-445-3333, ext. 2034, or cbarks@prescottaz.com.
SUBMIT FEEDBACK
Click Below to:
More like this story