Arizona residents turn out for midterm vote
Originally Published: November 6, 2018 5:05 p.m.
PHOENIX — Vignettes from Tuesday's midterm election in Arizona:
Man filming at Goodyear polling venue arrested
Police in the Phoenix suburb of Goodyear say a man was arrested for allegedly carrying a BB gun and filming inside the venue.
They say 37-year-old Brad Luebke was caught filming inside the Desert Springs Community Church around 12:35 p.m. Tuesday.
That violates Arizona law which prohibits filming within 75 feet of a polling location.
Police say polling officials and officers tried to tell Luebke about the laws and he was arrested after refusing to leave the polling location.
They say Luebke was wearing a holstered BB gun on his hip.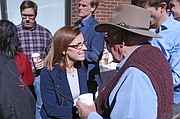 Police say he's facing three counts of disorderly conduct, one count of misconduct involving weapons and one count of recording within 75 feet of a polling place.
It's unclear if Luebke has a lawyer yet.
McSally: 'Land the plane'
Rep. Martha McSally told backers to "just land the plane."
The Republican Senate candidate and former combat pilot greeted supporters at a Chandler diner on Election Day. She urged them to "carbo-load" and then get back to knocking on doors.
In McSally's words, "we're mission complete, we're almost out of ammo, just land the plane."
McSally and Kyrsten Sinema are locked in a tight race to become Arizona's first female senator. They are vying for the seat vacated by Sen. Jeff Flake, who decided not to seek re-election.
Sinema says she remains focused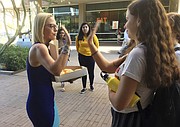 U.S. Senate candidate Kyrsten Sinema spent the final hours of Election Day talking to voters and grabbing food from one of her favorite restaurants.
The Democrat said she started Tuesday with a run on the University of Arizona campus in Tucson before heading to Phoenix.
She greeted patrons during the lunch hour at America's Taco Shop in Phoenix.
Sinema says she continues to remain laser-focused on campaigning up until the polls close. She also says she is not concerned by any confusion that may arise from the late withdrawal of Green Party candidate Angela Green.
Voters on both sides express hope
Information technology worker Keith Cook used to be a Republican but says he changed to Democrat during the 1980s because he felt the GOP was too aligned with the Christian right and excluding others.
The 53-year-old Christian says it hasn't gotten better and that issues weighing on him are the environment and global warming as well as how to take care of the homeless.
As a Christian, he said the decline of political discourse with Donald Trump as president has been disheartening.
Cook would like to see Democrats win one of the congressional chambers, though he's not sure what good will come of it.
He voted for Kyrsten Sinema for Senate because she has demonstrated her willingness to be more bipartisan. He questions whether Martha McSally could do that.
xxxx
Commercial builder Keith Broadwater from Phoenix says his votes in Tuesday's midterm election reflected his support for the U.S. Constitution, President Donald Trump, the people who have been forgotten by politicians, and the president's approach to economic growth and illegal immigration.
The 65-year-old told The Associated Press that he voted for Republican Senate candidate Martha McSally and GOP Gov. Doug Ducey.
Broadwater described himself as a "Christian American constitutional conservative Republican — in that order."
He credited Trump with improving the business climate by cutting regulations on business "so that the entrepreneurial free expression of ideas can run again."
A 52-year-old math teacher at a Phoenix community college says she always votes but that this midterm carries a particular urgency.
xxxx
Democrat Kory Ambrosich says she's "very frightened" by the country's direction under President Donald Trump and his Republican supporters and says that direction "definitely needs to be halted and changed."
Ambrosich told The Associated Pres that she's saddened by the country's political divide and that she feels it in her own family.
She wants a Congress that would be willing to push back against Trump if necessary, even if it means less would get done.
xxxx
A 60-year-old Phoenix man is rooting for Martha McSally to be Arizona's first female senator.
Jeff Heisel told The Associated Press that he liked McSally's fighter pilot background and that he and his wife felt so strongly about McSally that they went to her Oct. 12 rally in Gilbert.,
Heisel said he didn't like how Sens. John McCain and Jeff Flake failed to support President Donald Trump Trump.
Strong early turnout in Phoenix metro
Maricopa County's top election official said the Election Day early turnout at polling sites in metro Phoenix was almost on par with a presidential election.
County Recorder Adrian Fontes says more than 86,000 ballots were cast at polling places of Tuesday morning.
Fontes says lines at some locations left people waiting for a voting booth but not to check in.
Fontes says there have been some hiccups at a few of the some 500 voting sites.
The hiccups included technical glitches at one in Mesa and a foreclosure that locked up one in Chandler.
Fontes says the Chandler location is being set up at an alternative site elsewhere in the same property. Officials had planned initially to relocate to a high school.
Polling site in Chandler foreclosed on
Maricopa County election officials were caught by surprise Tuesday morning when the owners of the polling site in Chandler locked the doors.
County Recorder Adrian Fontes told KTVK-TV Tuesday morning that poll workers were trying to set up in the parking lot of the Golf Academy of America, which had been foreclosed on overnight Tuesday.
A new polling location opened later at the Gila Precinct at Mesquite High School in nearby Gilbert.
Fontes had said reopening the site would have required a court order.
SUBMIT FEEDBACK
Click Below to:
More like this story