Prescott considers $2.5 million upgrade to high school athletic facilities
Athletic director to inform school board about proposal for new track and synthetic turf field

By
Nanci Hutson
|
HutsonNanci
Originally Published: November 5, 2018 12:16 a.m.
Nostalgia can lead people astray — especially when it butts up against big dollars.
Such truth is why Prescott High School's Athletic Director Missy Townsend refused to let her nostalgia for playing sports on natural fields skew her decision on the future of the school's flagship athletic field.
On Tuesday night, Townsend will share with the Prescott Unified School District Governing Board the rationale for spending up to $2.5 million to upgrade the high school's main athletic facilities — replace the school's crumbling track that is so much of a safety hazard it can no longer be used for track meets; replace the grass football and soccer field with a high-grade synthetic turf system with an expected decade-or-more life span; replace and install modern stadium lighting fixtures and install custom-made safety railings for the concrete bleachers.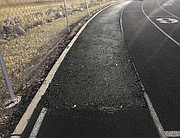 Though these renovation does not require a board vote, district Superintendent Joe Howard said he wants to be transparent with the board and the public about how the project evolved and how it will be financed – the money will be a blend of bond and building sale dollars earmarked for one-time, capital expenses. Howard is backing Townsend and the high school administration's recommendations.
The track project is unlikely to generate any dispute. All one needs to do is take a look at the big cracks and crumbling chunks on the far lane to see this is a must-do foundation-to-surface replacement. This project was proposed as part of the approved 2015 bond package; the estimated cost is about $1 million.
The lighting and railings are safety features Townsend expects will cost under $400,000; they could be phased in but if the district is contracting to upgrade the main complex it makes sense to include all the pieces. She noted the current lighting fixtures are 35 years old; many of the bulbs have to be custom-ordered because they no longer can be purchased through traditional sports' venue vendors.
The move to transforming the high school's main athletic field into a synthetic turf system — one that will rely on the latest technology that incorporates concussion protection and a maintenance contract — may generate a little closer scrutiny.
And Townsend is ready to answer any and all questions.
"I'm still a natural turf fan. It's my favorite … even in my own home. I just love grass," admits Townsend, a one-time high school and collegiate athlete. "But in order for me to be my favorite you have to have an unlimited budget. You have to have multiple facilities and other places to practice, and you have to have the grounds people skilled enough, and trained enough, and assigned only to your field, to maintain it.
"If all of those things were in play, and I wasn't worried about money, staffing, practice space, and water, I'd stay with natural grass. Who doesn't want to play in grass? But we don't have unlimited money. This town doesn't have unlimited water. We don't have the ability to assign just one grounds person to work at the high school. And we don't have multiple practice facilities."
The practicalities and demands of properly maintaining, watering, patching and growing the high school's only football and soccer field — they have one other field for baseball and softball — has proved an expensive, frustrating proposition, she said. The field is used more than 200 times a year, she said.
The annual budget for field maintenance is $80,000 — the cost for annual upgrades for synthetic turf would be $5,000 with no water required, she said.
The cost of replacing the natural grass field, not including inflation for water and staff to maintain the field, was expected to be just under $700,000, Townsend said.
In Townsend's cost analysis between natural grass and the proposed state-of-the-art synthetic turf system they intend to install indicated a half million dollar savings over 10 years, or essentially the dollar amount that will likely be required when the surface has to be recovered in a decade.
"When you have that much use on a facility, with no ability to play in any other places, and with the maintenance and upkeep required, it's a no-brainer," Townsend said of the proposed project.
Bradshaw Mountain High School Athletic Director Tony Miller, and Humboldt Unified District Superintendent Dan Streeter, are vocal fans of their high school's athletic turf fields. The first was installed in 2008 and then replaced for this year's football season.
"I don't really see any con's to turf surfaces," Miller said. "They save a lot of money on water, paint and general maintenance of the facility.
"They really expand upon the amount of day and time you can have on your fields, and the more time you can have stuff with kids that is a benefit to them, well, that's always a plus."
Streeter assured the Humboldt District considers the turf fields a good investment, one he said he has "no doubt would be a tremendous investment for the Prescott community if they choose to go that
Townsend concurs.
"This is a multi-sport athletic facility for competition," Townsend said. "This isn't your front yard. This isn't a park … this is not just good for Prescott High School, this is also good for the community of Prescott."
Follow Nanci Hutson on Twitter @HutsonNanci. Reach her at 928-445-3333 ext. 2041.
More like this story
SUBMIT FEEDBACK
Click Below to: