Cast your vote: Here's a review of voting places, races, propositions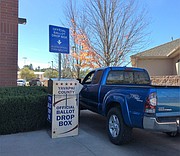 It is too late to mail in your early ballots. But your vote still counts as long as you get your ballot in the ballot box or at a voting station by 7 p.m. Tuesday, Nov. 6.
More than half of the Yavapai County voters with early ballots have dropped them off, as of Friday, Nov. 2, and about half of those have been verified.
Yavapai County Registrar of Voters Laurin Custis reports that as of Nov. 2, the department has issued 113,952 ballots.
"We have received 79,206 voted ballots. We have accepted 64,606 of those ballots which is 56 percent verified," Custis reports.
SCHOOL DISTRICTS
As a reminder of what is on the ballot, Prescott Valley and Dewey-Humboldt residents have the additional question of whether to approve a $15 million bond for the Humboldt Unified School District to be used for improvements to school safety and security, student transportation, technology improvements, and classroom repairs and renovations, which include roofs, heating, air conditioning and furniture. Most likely, this comes to about $1.50 per month for homeowners based on $100 of assessed valuation.
Voters in Prescott, Chino Valley and Mayer Unified School districts and Yavapai College district will be voting for their respective school board members.
PROPOSITIONS
Voters will decide five ballot measures Nov. 6:
Proposition 125 Relating to Public Retirement Systems asks voters to approve measures to the Correction Officer Retirement Plan (CORP) and Elected Officials Retirement Plan (EORP) that change the formula for settling annual increases.
VOTE
Most city and town halls have drop boxes outside their building; ballots in these boxes will be picked up at 7 p.m. Tuesday, Nov. 6. In Prescott, the ballot drop box (and voting center) is located at the Yavapai County Administration Building, 1015 Fair Street, and not at City Hall.
Other Vote Centers in Prescott are located at:
Central Yavapai Fire Station #57, 4125 W. Outer Loop Road.
Prescott Community Center, 1280 E. Rosser Street.
Trinity Presbyterian Church,
630 Park Avenue.
Yavapai College, Community Room, 1100 E. Sheldon Street, Bldg 19.
In Chino Valley, Vote Centers are: First Southern Baptist Church, 1524 N. Highway 89 and Grace Baptist Church, 2010 S. Highway 89.
In Prescott Valley, Vote Centers are located at: Humboldt Unified School District, Bradshaw East Campus, 6411 N. Robert Road and Step One Coffee House Conference Room, 6717 E. 2nd Street, Suite B.
For a full list of drop boxes and vote centers, visit yavapai.us/GoVote.
Proposition 126 Relating to Prohibition of Taxation of Services would amend the state Constitution from imposing new transaction-based taxes on "services" or increasing existing taxes on "services." It does not repeal taxes, fees or assessments in effect since Dec. 31, 2017.
Proposition 127 relating to Renewable Energy Production involves the Clean Energy for a Healthy Arizona Amendment. The amendment would require affected utilities that produce electricity to obtain renewable energy resource or credits in an amount of not less than 12 percent in 2020 increasing incrementally to not less than 50 percent in 2030 and beyond. It also may increase costs to retail KWH sold by the utilities from not less than 3 percent in 2020 to not less than 10 percent in 2030 and beyond.
Proposition 305 would expand eligibility for education vouchers to all Arizona students, allowing the program to increase by one-half of one percent of the total public school enrollment each year through the 2021-2022 school year, capping enrollment at 30,000.
Prop 306 relating to Citizens' Clean Elections Commission would prohibit candidates who participate in the Clean Elections program from making any payment to a political party or non-profit allowed to conduct election activity, and would place oversight of the Commission under the Governor's Regulatory Review Council.
FEDERAL POSITIONS
U.S. Senate candidates for Sen. Jeff Flake's seat are Angela Green (GREEN), Martha McSally (REP) and Kyrsten Sinema (DEM).
U.S. House candidates are challengers David Brill (DEM) and Haryaksha Gregor Knauer (GREEN), and incumbent Paul Gosar (REP).
STATE POSITIONS
State Senator, District 1 candidates are challenger Jo Craycraft (DEM) and incumbent Karen Fann (REP).
State Representative, District 1 candidates are challengers Ed Gogek (DEM) and Jan Manolis (DEM), and incumbents Noel Campbell (REP) and David Stringer (REP).
Gubernatorial candidates are challengers David Garcia (DEM) and Angel Torres (GREEN), and incumbent Doug Ducey (REP).
Attorney General candidates are challenger January Contreras (DEM) and incumbent Mark Brnovich (REP).
Secretary of State candidates are Steve Gaynor (REP) and Katie Hobbs (DEM).
Also on the ballot are the offices of State Treasurer, Superintendent of Public Instruction, Mine Inspector and Corporation Commission.
More like this story
SUBMIT FEEDBACK
Click Below to: