Church News: Week of November 3
Originally Published: November 2, 2018 6:46 p.m.
St. Catherine Laboure Catholic Church, 2026 N. Highway 89 in Chino Valley, presents its popular Christmas Bazaar from 9 a.m. to 3 p.m. on Saturday Nov. 3. Local artisans offering quality, unique, handmade items. Raffles, prizes and grand prize $500, need not be present to win. Tickets sold both days. Support local artists. Proceeds go back into the community. Visit web site www.stcatherinecv.org.
"Set the Table" is a food drive to collect groceries for the annual community Thanksgiving dinner at the Salvation Army. All are invited to contribute to the food collection from 9 a.m. to 3 p.m. Saturday, Nov. 3, at 3151 Willow Creek Road in the parking lot of Prescott Community Church. A list of specific grocery needs is at pccaz.org.
The "Set the Table" food drive is a mission partnership between Prescott Community Church, The Salvation Army, and all who wish to see that everyone in our area has the opportunity to enjoy a special gathering and dinner on Thanksgiving Day. All donors at the Nov. 3 event will receive a 20% discount coupon to the Salvation Army store. The Salvation Army band will be there to provide entertainment during the 11 a.m. to noon hour. The red kettle will also make its Prescott 2018 debut. Help donate the groceries needed to prepare a special holiday meal for the hundreds of people who will enjoy Thanksgiving dinner at The Salvation Army. Cash, grocery store coupons, and checks payable to The Salvation Army-Prescott Corp will also be accepted for the purchase of turkeys. More information is at pccaz.org.
Moms' Market--American Lutheran Church's MOPS group is hosting a Mom's Market from 10 a.m. to 3 p.m. Saturday, Nov. 3. All are invited to visit featured vendors for fun, shopping, and raffles. All booths will highlight local moms and their handiwork. This will be a great time to do some early Christmas shopping. Questions? Please contact Tricia Sokoloski at 928-445-4348, ext. 318, or email her at tricia@americanlutheran.net.
Join us at Alliance Bible Church, 2601 W. Iron Springs Road, Prescott, today from 3 to 5 p.m. Nov. 3 and help us pack Christmas boxes for needy children throughout the world. We are still in need of gifts for children ages 3-12. Toys, school supplies, combs, wash cloths, bar soap, and clothing are being collected.
Moms' Market - American Lutheran Church's MOPS group is hosting a Mom's Market on 10 a.m. to 3 p.m. Saturday, Nov. 3. All are invited to visit featured vendors for fun, shopping, and raffles. All booths will highlight local moms and their handiwork. This will be a great time to do some early Christmas shopping! Questions? Please contact Tricia Sokoloski at 928-445-4348, ext. 318, or email her at tricia@americanlutheran.net.
Prescott Unitarian Universalist Fellowship will present "Water For The Future – Is all Well in the Prescott Region?" at the 11 a.m. service Sunday, Nov. 4 at 945 Rancho Vista Drive, Prescott. Guest speaker will be Ed Wolfe, Ph.D., a member of Citizens Water Advocacy Group (CWAG). Presentation will include photos showing the water and aquifer situation in our area. Native Flutist, Sue Daniel, will add special music.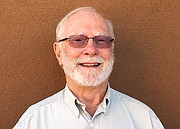 Edward W. Wolfe, Ph.D., is a retired geologist who spent his career with the U.S. Geological Survey. Over nearly 40 years, he worked with the USGS in western Kentucky, northern California, northern Arizona, Hawaii, the Pacific Northwest, the Philippines, and the Moon (from a distance, during the Apollo Program). Much of the work was related to areas of young volcanic rocks and to active volcanoes— especially Kilauea, Pinatubo, and Mount St. Helen. After retiring to the Prescott area, he recognized that his geologic experience in northern Arizona could have application in interpreting and explaining the area's severe water-resource issues. Over the past decade, both singly and with retired USGS groundwater hydrologist William Meyer, Ed has written numerous articles and given many presentations on groundwater issues, particularly with respect to the upper Verde River watershed and the Verde River.
Ed Wolfe is a founding member of CWAG's Board of Directors and former chairman of the Verde Watershed Association, the Verde River Basin Partnership's Technical Advisory Group, and former chairman of the Partnership's Board of Directors. He currently serves on the CWAG Board of Directors and is chair of the Education Committee. Organized in October 12, 2002, CWAG promotes a sustainable water future in the Upper Verde River Basin and the Prescott Active Management Area by educating the public, encouraging citizen action, and advocating responsible governmental decision-making.

The Good News Puppets present Jumpin' Jungle Safari at 1 p.m. Sunday, Nov. 4 in the Fellowship Hall at American Lutheran Church. This event is rated "F" for free, fantastic fun for all ages! The community is invited to join us as we learn of God's creation.

Meet Pastor Tim Parker, Christian author and founder of Set Free Center in Prescott. Tim will be teaching on the new book, "Bury the Rock and Come Follow Me." The book has been written to and for the people of today's Christian Church. His word pictures of rocks and sponges identify faith in Jesus Christ compared to a faith that grows out of good works and attendance.
Enjoy an evening of faith exploration and fresh thinking! Lecture and book signing.
Set Free Center, 116 N. Cortez, Prescott. 928-237-9432. Call to reserve or just come. Refreshments served. 6 p.m. Tuesday, Nov. 6 and 6 p.m. Thursday, Nov. 8.
Tim Parker is the Executive Director, President and Founder of Set Free Center; Inc. Tim has a personal passion for the addiction and recovery field. Tim is an Ordained Minister, Chaplain, Board Certified Pastoral Counselor (BCPC), Board Certified Masters Life Coach (BCMLC), Certified Drug and Alcohol Counselor (CDAC), and Certified Christian Counselor (CCC). Tim received his Bachelor of Science degree in Business from the University of Phoenix, and went on to a successful career in business management. His own triumph over
addiction led him into the treatment field and allows him to provide empathy, support, and compassion for his clients. Tim has continued his education and is working towards two Masters Degrees, one in Substance Abuse Counseling and one in Professional Counseling from Grand Canyon University and has his Master of Divinity through Midwest College of Theology. Tim works with both men and women in all stages of addiction. Set Free Center works with "Counseling the Past & Coaching the Future." (Please see www.SetFreeCenter.org for more information).
Tim is the also the Founder and President of In It For The Cause Foundation, a Non-Profit organization that takes those that are in active substance abuse treatment to Haiti, Peru and Mexico for experiential therapy. (Please visit www.InItForTheCause.org for more information).
Tim is a Veteran of the United States Marine Corps, the Author of "The Pattern," "Leave Your Perfect At The Door" and "Half The Lifestyle Twice The Joy." Tim has a healthy love for God, mental and physical fitness and can be found in the gym, study, or with his children and grandchildren. Tim's belief is that recovery is a life-changing process that involves every aspect of an individual's life. His goal is to inspire his clients to be authentic, transparent, and vulnerable.
The Community Ministry Team of Solid Rock Christian Fellowship, at 148 S Marina St. in Prescott, is a ministry that interacts and supports our community with various activities. This month we will have the privilege of hosting lunch for our Prescott Police Department at 11:30 a.m. Wednesday, Nov. 7. Please contact the Solid Rock Christian Fellowship for information.
Prescott Valley United Methodist Church at 8944 E. Sommer Drive invites you to a 6-week study of Adam Hamilton's book "John the Gospel of Light and Life," beginning 1:30 P.M. Wednesday, Nov. 7. For more information, please call the office at 928-772-6366.
All are welcome to join Beit Torah Jewish Congregation (www.onetorah.org) in welcoming the new month of Rosh Chodesh Kislev, 5:30 p.m. Nov. 8, with a candlelit ceremony and dinner. For details, call 928-237-0390, 928-227-0582 or email ansheitorah@cableone.net.

The 2018 St. Germaine Ladies Guild Annual Christmas Bazaar and Bake Sale will be from 9 a.m. to 4 p.m., Friday, Nov. 9, and 9 a.m. to 4 p.m. and 5:30 to 6:30 p.m., Saturday, Nov. 10 at 7997 E. Dana Drive, Prescott Valley. Handcrafted items and homemade baked goods will be available. For more information, contact Mary Dahl at 928-379-5907.
A Bible-based tour of the Grand Canyon, led by Russ Miller, www.creationministries.org, the only full-time creation speaker in Arizona, will be on Sat., Nov. 10, leaving Prescott at 8 a.m. and returning at approximately 7 p.m. We use Master's Touch Christian bus service, and includes the fee into the park, lunch, snacks and bottled waters throughout the day, Russ' fee and the bus fee. This is the best way to learn creation apologetics and how to defend the Christian faith. For more information or to sign up for the tour, call David McNabb at 928-771-1218.
The Center for Spiritual Living, Prescott located at 3755 Willow Creek Road, is having its annual Crafty Christmas Boutique Sale from 10 a.m. to 5 p.m. Saturday, Nov. 10, featuring handmade arts and crafts by local artists, with free parking and admission.
The Center for Spiritual Living is an inclusive spiritual community that honors all paths to God and whose mission is to provide practical spiritual tools and life-enhancing, inspirational programs that recognize, honor, and nurture personal transformation, supporting a world that works for everyone. All are welcome at weekly services starting with a brief Guided Mediation every Sunday at 10 a.m. before the Service at 10:30 a.m., and the services feature inspiring local guest musicians each week.
Our Youth Program is also at 10:30 a.m. on Sunday (It helps if you come 15 minutes early to register children). Coffee and refreshments are served after the service. Our bookstore is open on Sundays after service and during weekday business hours. For more information see www.CSLPrescott.org or call 928-778-1602.
Choirs and musicians from quad-city area churches will present the fifth annual interfaith Celebration of Thanks free concert 6 p.m. Thursday, Nov. 15, at St. Luke's Episcopal Church, 2000 Shepherds Lane in Prescott (near the Prescott Airport). Bring a non-perishable food item to stock the St. Luke Food Pantry, or a monetary donation to benefit Yavapai County Suicide Prevention. For more information, call 928-632-3100 or email media@slecp.org.
The Lutheran Women's Missionary League's Annual Bazaar, Bake Sale and Quilt Raffle at Shepherd of the Hills Lutheran Church will take place from 9 a.m. to 3 p.m. Friday, Nov. 16 and Saturday, Nov. 17. Handcrafted items of all types will be featured. A Silent Auction featuring collector items will also be held. A light lunch will be available for purchase. In addition to the Bazaar items, the church's new cookbook, just published, will be for sale for the first time to the public at a cost of $12. All proceeds support Prescott area charities. Supporting funds for the event will be contributed by Thrivent Financial for Lutherans. The church is located at 1202 Green Lane in Prescott. For further information, contact Jan Krebs, 928-778-1672 or the church office at 928-778-9122.
Emmanuel Lutheran Church will hold its second annual Christmas Craft Fair from 9 a.m. to 3 p.m. Saturday, Nov. 17. The cost is $20 per table and tables will be provided. Emmanuel Lutheran Church is located at 7763 E. Long Look Dr., Prescott Valley. If interested, please contact Cheryl Miller, 928-830-9648, to reserve a table.
There will be a fall creation seminar put on by the Prescott Creation Society at 1 p.m. Sunday, Nov. 18, at LifePointe Church, 10100 E. Highway 69. Russ Miller will be the speaker. This may be the last time that Russ Miller will be speaking at a seminar in the tri-city area, so come hear him destroy evolution if you can, and bring some young people with you. He will also be speaking at the worship service at 11 a.m., and there will be a box lunch available to buy after the service.
American Lutheran Church hosts The Rose-Gibbs Duo in concert at 3 p.m., Sunday, Nov. 11 in the church sanctuary. The concert is open to the public.
Benita Rose and Tony Gibbs have performed throughout the United States as a piano-sax duo. They were top prize winners in the 2008 International Chamber Music and Ensembles Competition, professional division, held in Boston. They are frequent recitalists,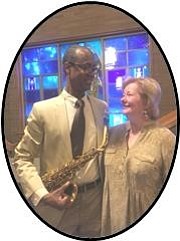 presenting beautifully varied sax-piano programs. Tony Gibbs, saxophonist, performed with the U. S. Coast Guard Band from 1980-2000, delighting audiences around the world with his virtuoso solos and sultry sounds. His audiences have included four United States presidents as well as other dignitaries, National Public Radio and Radio Free Europe audiences. During this period he also performed at international saxophone symposiums. Mr. Gibbs was also a music teacher for Coventry Public Schools for many years. Currently he is the vocal music teacher at Abia Judd Elementary School. He holds degrees from Northwestern University and the University of Connecticut. Concert pianist Benita Rose is in demand not only as half of the Rose-Gibbs Duo, but also as a soloist. Recently relocated to Prescott, she is organist/pianist at American Lutheran Church and piano soloist on the Prescott Chorale and Arizona Philharmonic Concert Series. She gives recitals often and has received acclaim as soloist with orchestras, performing concertos from Mozart, Liszt, Schumann, and Gershwin. She has been heard on over two-hundred radio stations on Martin Goldsmith's "Performance Today." Ms. Rose ran a successful piano studio in Connecticut, "Rose International Piano Conservatory," where she enjoyed many prize-winning students. She has served as organist/pianist at Bethany Lutheran Church in West Hartford where she gave annual organ recitals; Assistant Organist at St. Joseph's Church in Shelton, and Director of Music Ministries of Avon Congregational Church. She holds degrees from the Hartt School and the University of Connecticut
It's time to sign up for this year's production of Walk Through Bethlehem, American Lutheran Church's Christmas gift to the community. Each year thousands of people attend and experience the sights, sounds and smells of the town of Bethlehem over 2,000 years ago through 30-minute interactive, guided tours. Four hundred-plus volunteers are needed in many different areas to make Walk Through Bethlehem a success. If you would like to participate in this holiday event, volunteer forms are available in the church office, 1085 Scott Drive, throughout the week, or on the website (www.americanlutheran.net). Additional needs for the event include animals (donkeys/mini horses, goats, chickens, and rabbits) and food (coffee, cookies, cases of 8 oz. bottled water).
This year's expanded performance schedule is: 1:30 to 3:30 p.m. Wednesday, Nov. 28 6 to 8 p.m. Thursday, Nov. 29, 6 to 8 p.m. Friday, Nov. 30, 6 to 8 p.m. Thursday, Dec. 6, 1:30 to 3:30 p.m. Friday, Dec. 7, and 6 to 8 p.m. Saturday, Dec. 8.
Important Walk Through Bethlehem dates are as follows: Costume Fittings: 9:30 a.m. to noon Sundays, November 18 and 25 from 5 to 6 p.m. Tuesday, Nov. 27. Orientation: 6 to 7 p.m. Tuesday, Nov. 27; 6 to 8 p.m. Dec. 8. For more information on Walk Through Bethlehem, contact the church office at 928-445-4348.
Christian Science Society, 410 E. Gurley St., Prescott, invites all to a special Thanksgiving Day church service at 10 a.m. Thursday, Nov. 22. Please feel free to come and bring your family and friends. The Golden Text is Colossians 3:15.
"Jingle Bells" Christmas Gift Faire and Bake Sale from 10 a.m. to 2 p.m. Saturday, Dec. 1 at Prescott Valley United Methodist Church, 8944 E. Sommer Drive, Prescott Valley (nearest cross streets are Navajo Drive and Sommer Drive). There will be a great variety of arts and crafts from the quad-cities and delicious bake sale items too. For more information, contact Jeannie at 928-772-6760.
More like this story
SUBMIT FEEDBACK
Click Below to: