Highlands Center puts on annual holiday bazaar

Originally Published: November 1, 2018 10:01 p.m.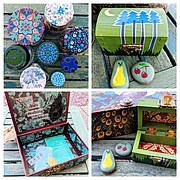 Figuring out how to top last year's Highlands Holiday Bazaar was going to be a trick considering how it ended up being a total surprise for how good it was, said Highlands Center Marketing and Communications Coordinator Tom Agostino.
"If we can match last year, we'll be really happy," Agostino said. "It was such a nice event."
For this year's 12th annual Highlands Holiday Bazaar Saturday, Nov. 3, the discovery gardens will be open to have not only the vendors, but the discovery stations and children's play area available with a whole bunch of programs for the kids, including them having the chance to make their own crafts, he said.
There will be more than 20 vendors out at the Highlands Center for Natural History with art that's all handcrafted by the artists with a relationship to nature, Agostino said. It's quite the variety, too, from notecards to paintings to hand-sculpted pieces, he said. Hot cider and coffee will also be available.
Agostino noted the Highlands Center's parking lot is currently closed for construction. However, a shuttle service will be provided from Prescott Area Association Realtors, 3719 Karicio Lane near Costco. Recently, the center put on a Halloween event and the shuttles worked great with the 175 people who showed up, Agostino said. There were three shuttles operating and no wait or lines, he said.
Besides the amount of items up for sale from 10 a.m. to 3 p.m., those coming will enjoy the beauty that currently surrounds the Highlands Center, Agostino said.
"There's almost no more beautiful place to be right now then out at the Highlands Center," he said. "It's a pretty time out in the highlands."
At the same time, this is one of the first bazaars of the season, so it offers a chance for people to get their holiday shopping done early, Agostino said. A portion of the vendors' proceeds will also benefit Highlands Center's children's educational programs.
The Highlands Center for Natural History is located at 1375 S. Walker Road. For more information, visit www.highlandscenter.org or call 928-776-9550.
SUBMIT FEEDBACK
Click Below to: