Ducey signs funding bill for Yavapai County inmate recidivism program
Originally Published: May 30, 2018 5:52 a.m.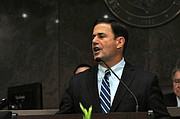 Gov. Doug Ducey recently signed SB 1476, which appropriates $1.5 million dollars to fund the Yavapai County Sheriff's Office recidivism rate reduction program. The money will be spread out over the next three fiscal years
The goal of the program-- known as Reach Out-- is to create a road to recovery outside of incarceration by providing service linkage to county jail inmates with appropriate behavioral health and substance abuse treatment at the earliest possible moment in the criminal justice system.

"Most of what we have historically done is to provide back-end services to defendants," Yavapai County Attorney Sheila Polk said. "Reach Out is ground breaking in that the link to services will be made upon the system's first contact with an offender."
This funding by the state, in part, will provide for director oversight, staffing, and tracking of inmates accepted into the program. Detention facility release coordinators will screen inmates suffering from mental illness, substance abuse and/or co-occurring disorders to determine history of substance abuse and mental illness, willingness for treatment, and severity of charges. From there, the coordinators will connect the inmate to partners throughout the county who can provide appropriate treatment to qualifying individuals.
An important component of Reach Out will be cross-system recidivism tracking, which allows a snapshot of inmate history, status, and success to help evaluate the program at all levels and involving all stakeholders. Some of those stakeholders include courts, attorneys, pre-trail services, mental health treatment providers and community support programs in the areas of Arizona Health Care Cost Containment System assistance, transportation, education assistance, veteran's programs, housing, etc.
There is also a pre-arrest diversion focus in Reach Out. It involves training law enforcement officers to utilize de-escalation skills in conjunction with crisis response teams to divert those with mental health issues from jail, if appropriate.
Previous funding to help launch the Reach Out program has come from a federal Department of Justice grant, an allocation of money from the Yavapai County Attorney office earmarked for pre-trial diversion programs by the state legislature, and the Northern Arizona Regional Behavioral Health Authority.

If the program continues to prove successful, Yavapai County Sheriff Scott Mascher hopes it will spread statewide and even to those sheriff's agencies outside Arizona looking to reduce recidivism in their facilities.
A copy of the complete brochure for the Reach Out program is available at http://ycsoaz.gov/inmate-search-and-jail-information.
Information provided by the Yavapai County Sheriff's Office
More like this story
SUBMIT FEEDBACK
Click Below to: