Video shows body of construction worker wrapped in US flag
Originally Published: May 29, 2018 6:04 a.m.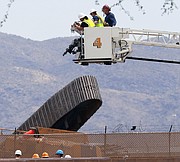 PHOENIX — The family of a construction worker who was killed when a drill-rig toppled at a construction site near Phoenix Sky Harbor International Airport is grateful for how firefighters recovered his body.
The family of Melvin "Wayne" Self released video Sunday to KPHO/KTVK-TV showing firefighters carrying the 52-year-old's body after covering it with an American flag.
The video was taken by a police detective.
The station says Self's family wanted to thank first responders for being respectful.
Authorities say the body was found Thursday afternoon after more than 50 tons of dirt was removed from a hole more than 30 feet deep.
Phoenix Fire Department officials say the rig fell on its side Monday morning, May 21, 2018, during construction for the Sky Train guideway system at the airport.
Click to visit the Wayne Self GoFundMe page created by Joan Kellogg of Chino Valley, Arizona
SUBMIT FEEDBACK
Click Below to: