Originally Published: May 27, 2018 6:05 a.m.
Photo Gallery
2018 Phippen Art Show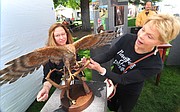 Julie Hooker's paintings aren't dirty; they're just made out of dirt. She and her work can be found at the 44th annual Phippen Western Art Show & Sale at the courthouse plaza in Prescott.
Hooker, who lives in Scottsdale, said she's been creating paintings out of dirt since 2009 when the idea came to her while among the red rocks in Sedona. However, some of her paintings include dirt from around the world.
"I have a friend who's in progress of hiking all seven of the big summits," she said. "In 2017, he did Mount Kilimanjaro and in 2018, he did Mount Kosciuszko in Australia and Mount Aconcagua (Argentina). When he summits, he gets me the dirt."
In going and collecting the dirt and grinding it down to make her own paint, Hooker said each dirt has different personalities and behaviors. For instance, the dirt from Mount Kilimanjaro has an ashy feel to it and the dirt from Mount Aconcagua feels more like silica and sand, she said.
Learning how each type of dirt behaves and the connection she has with the earth in doing it reminds her of being a little kid, playing in the dirt and making mud pies, Hooker said.
"I've just extended that a little bit," she said.
Also present at the art show were Steven and Donna Schneider from Phoenix. Specializing in bronze figures, Donna Schneider said they started in 1989 but had a 10-year sabbatical between 2001 and 2011. He does the sculpting and she does patinas, she said.
Steven Schneider said he got into sculpting out of desperation and a dislike for his job, wanting to find something that gave him enjoyment. He likes history and hopscotches around historical periods making statues out of people from those eras, he said.
Austin Casson, a metal sculptor from Temecula, California, who makes sculptures of birds, was there too.
Becoming a sculptor was a total accident, Casson said.
At one point in time, he was in the ski industry and wanted to get in the golf industry with the idea to make miniature scale model replicas of famous golf holes as a gift idea, he said.
However, when trying to find people to make them for him, he found he could do them better than anybody else, Casson said.
"(I was) 43 at the time. I knew I had some skill, but no idea that I would be so taken with it," he said.
"I got lucky and was successful right away."
The reason he does birds is because he was raised on a farm and has always been fascinated with hawks, owls and other birds of prey, Casson said.
The 44th annual Phippen Western Art Show & Sale continues at the courthouse plaza on Sunday and Monday, May 27-28. CLICK HERE for more details.
More like this story
SUBMIT FEEDBACK
Click Below to:
This Week's Circulars
To view money-saving ads...