CAFMA gets new fire engines in Chino Valley, Dewey
Hosts ceremonies to recognize

By
Max Efrein
|
mefrein
Originally Published: May 26, 2018 6:30 a.m.
Updated as of Monday, May 28, 2018 7:04 AM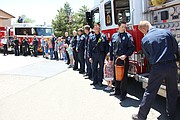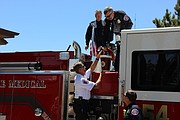 The Central Arizona Fire and Medical Authority (CAFMA) has officially put two new type-1 fire engines into service to replace aging equipment – at a cost of nearly $900,000.
One went to station 62 in Chino Valley and the other is at station 54 in Dewey.
Both engines are 2018 Rosenbauers, which carry 1,000 gallons of water and have 1,500 gallon-per-minute pumps. Each cost the authority about $430,000 and were approved for purchase by the CAFMA board of directors in November 2017, said CAFMA Fire Chief Scott Freitag.
Whenever a new engine is purchased by CAFMA, it is placed into a busy station that runs a lot of calls, Freitag said. The engine it replaces is typically still in working condition, but has a lot of miles on it, so it is moved to a station that runs fewer calls as a means of extending its life. Whatever engine is replaced at the slower station is then moved into the authority's reserves and eventually serves as a training engine before finally being sold off.
"So you're talking 20 to 22 years that we have some of these things," Freitag said.
The new engines were subjected to a newly-adopted dedication ceremony. The first ceremony took place in Chino Valley on Monday, May 21, and the second took place in Dewey on Thursday, May 24.
Crew representation from all three of each station's shifts (A, B and C) transferred water in a custom leather fire bucket from the old engines to the new ones. After transferring some of the water, they used a hose line from the old engines to wet the new engines down before all personnel and members of their families pushed the new engines into their quarters for their first time in service.
This new dedication ceremony will now be the norm moving forward, Freitag said.
"It's a tradition in the fire service that dates back hundreds of years; it's just that we are now adopting it," Freitag said.
Follow Max Efrein on Twitter @mefrein, email him at mefrein@prescottaz.com or call him at 928-445-3333 ext. 1105.
More like this story
SUBMIT FEEDBACK
Click Below to: