Quality art, artists at Phippen's Western Art Show & Sale

Originally Published: May 25, 2018 6:06 a.m.
This weekend is the Phippen Museum's 44th annual Western Art Show & Sale and organizers say it continues to feature quality art and artists.
"We're not trying to have as many artists as we can, we're trying to have quality fine art," said Phippen Museum Marketing & Communications Manager Edd Kellerman. "That determines how many booths we have."
This year, there are 95 artists from all over the nation dealing in all kinds of media such as pastels, watercolors, mixed media and sculpture, Kellerman said. Every year about 50 or 60 percent of the artists return from last year with 40 either coming back after not being in the show the previous year or coming in for the first time, he said.
Many artists who come and participate in the show are well established artists and camaraderie among all of them is really great, Kellerman said.
"They share ideas about techniques for painting, what they're working on, current projects, pick each other's brains," he said. "Really come away with some new ideas and techniques for completing their artwork."
Held at courthouse plaza Saturday through Monday, May 26-28, there are a few changes this year due to the Prescott Downtown Partnership's landscaping, Kellerman said. Tree removal has added some spots for artists to take advantage of and new plantings have eliminated some spots, he said. All in all though, it's good for the ground, Kellerman said. Additionally, the setting of Prescott's historic downtown area, the buildings and Whiskey Row itself all contributes to the show's western theme, he said.
Once again, this year will see the Quick Draw at 2 p.m. Saturday and Sunday, Kellerman said. That's where artists chosen beforehand compete to complete a painting within one hour. There will also be an award ceremony for the award winning artists at 11 a.m. Sunday, he said.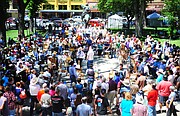 The monumental replica of George Phippen's "Cowboy in a Storm" will be unveiled on the east side of the courthouse at 11 a.m. Saturday as well, Kellerman said. It will be on the square all three days of the show before it is moved to its permanent home on the roundabout in front of the Phippen Museum. Kellerman noted the replica was sculpted by Debbie Gessner. A prior news release from the Phippen Museum states it has been supported by the local art community, including the Prescott Area Art Trust, Ed and Kathy Reilly of Bronzesmith Fine Art Foundry, with donations from the Harold James Family Trust, Jim Chamberlain of Sun State Builders and the City of Prescott.
For more information about the Phippen Museum's 44th annual Western Art Show & Sale, visit www.phippenmuseum.org. The show opens at 9 a.m. all three days.
By Jason Wheeler, follow him on Twitter @PrescottWheels, reach him at 928-445-3333 ext. 2037.
More like this story
SUBMIT FEEDBACK
Click Below to: