Lots of different types of racing at PV Grand Prix

Originally Published: May 25, 2018 6 a.m.
There won't be a dull moment in Prescott Valley this weekend with a lot of different races at the Prescott Valley Grand Prix, now in its fourth year, according to organizers.
"There's so many different types of racing, from 4-year-old kids to 70-year-olds, from vintage bikes to UTVs," said Arizona Offroad Promotions co-owner Kyle Krause. "It's a mix of everything."
Now in its fourth year, the Grand Prix lasts Saturday and Sunday, May 26-27, at the Prescott Valley Event Center, 3201 N. Main St.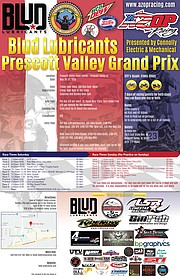 This year, Krause said they're building different obstacles and making it a better track. With the Town of Prescott Valley now owning the Event Center, a lot has changed, he said. However, that just means adapting, Krause said.
"We had to move some of the course," he said. "That's why we're putting more work into the dirt section of the course than prior."
The course is smaller, but more compact with a lot more in it, such as more jumps, bumps and hills in succession, Krause said. They were also able to acquire a blade and rip the dirt like never before this year, he said.
Registration for the Grand Prix starts at 3 p.m. Friday, May 25, and at 6 a.m. Saturday and Sunday. Entry fees are $20 per day for unclassified vehicles, $65 per day for bikes and quads, $100 per day for pro bikes and quads, $90 per day for UTVs, $190 per day for UTV Pros, $45 per day for minis and $35 per day for pee wees. For both days that becomes $110 for bikes and quads, $200 for pro bikes and quads, $160 for UTVs, $380 for UTV Pros, $70 for minis and $50 for pee wees.
Gate fees for spectators are $10 per day for adults, $5 for youth ages 6-12 and free for children ages 5 and under. Vehicles are $20 for the whole weekend.
The Grand Prix has gotten lot more kids to start racing, Krause said, noting it's become a really big family outing with everyone having a good time.
"I grew up racing and I think the family part of it is a huge benefit," he said. "That's what we have to offer compared to some of the big organizations, we're just really family oriented."
There's also plenty to do for spectators when they're not watching the races, such as vendors and food, Krause said. Some live music is also performing Saturday night starting at 6 p.m. including the Latino Rebel Band and Lucas Williams, according to San Martin Rodriguez of Prescott Night Out.
Last year's Prescott Valley Grand Prix saw about 550 participants over both days, Krause said. The hope is to beat that this year, he said. As for well-known riders, Krause said he never knows who is coming.
"I never know who's going to show up until they show up," he said.
For more information about the Prescott Valley Grand Prix or to see a schedule of races, visit www.azopracing.com.
By Jason Wheeler, follow him on Twitter @PrescottWheels, reach him at 928-445-3333 ext. 2037
More like this story
SUBMIT FEEDBACK
Click Below to:
This Week's Circulars
To view money-saving ads...