First phase of Watson Lake dam work wrapping up
Boat dock scheduled to be open for Memorial Day weekend

By
Cindy Barks
|
Cindy_Barks
Originally Published: May 25, 2018 6 a.m.
After several weeks of activity featuring concrete trucks, cranes, and barges, Watson Lake should be back to normal for the coming holiday weekend.
Eric Bay, the City of Prescott's utilities manager, said the bulk of the concrete work on the Granite Creek dam's valves was completed earlier this week, and the entire phase should be done by the end of today, May 25.
With that, construction will cease at the lake until the next phase, which is scheduled to begin in about October.
The work is part of a massive project to repair the leaky valve in the 99-year-old dam, and to block and stabilize another valve located lower in the dam wall.
The project got underway on April 23 and has required weekday closures of Watson Lake's main boat dock. Bay said the dock would be open for the Memorial Day weekend.
So far, the project has been a success, Bay said, noting, "The (valve's) slide gate is installed, and there is zero leakage."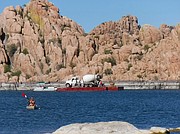 As a part of the repairs, a concrete truck was floated across the lake on a barge. Bay said the concrete was needed for the lower deck platform, and for stabilizing the dam's "thrust block." Much of the concrete work was completed on Tuesday, May 22.
In all, the project was expected to require about 24 cubic yards of concrete.
Watson Lake, which was built in 1919 to impound water from Granite Creek, contains two outlet pipes — one with a 36-inch-diameter valve, and another with a 48-inch valve.
In recent years, only the 36-inch valve has been operational, because the 48-inch valve is covered with sediment on the upstream side. The "thrust block" for the 48-inch valve will protect against catastrophic failures, according to the city.
The valves were built into the dam wall to allow water to be withdrawn for a variety of irrigation-related purposes.
When the City of Prescott bought Watson Lake (along with the nearby Willow Lake) from the Chino Valley Irrigation District in 1998, the city began releasing water from the lakes and transporting it through a pipeline to its recharge field near the Prescott Airport.
The lake water is then used to supplement the amount being recharged into the aquifer. Since the late 1990s, it has served as a part of the city's water portfolio.
The work that is scheduled to be done in the fall will involve mostly the downstream side of the dam, Bay said.
More like this story
SUBMIT FEEDBACK
Click Below to: