Boy struck by vehicle on May 7 remains in serious condition
Fundraiser in PV set for June 3

By
Max Efrein
|
mefrein
Originally Published: May 25, 2018 6:04 a.m.
A 12-year-old who was struck by a vehicle driven by a 16-year-old girl in Prescott Valley on May 7 remains in serious condition.
The boy, Nathan Rendl, had just gotten out of school that Monday at Liberty Elementary School and was walking across Lakeshore Drive to the Prescott Valley Library when the incident occurred.
After striking the boy, the girl — whose name has not been released — stopped briefly before continuing to drive east on Lakeshore Drive, according to Prescott Valley Police Department (PVPD) officials.
"A witness followed the vehicle to the intersection of Lakeshore Drive and Windsong Drive, and observed the vehicle pull into the parking lot at 3700 North Windsong Drive," PVPD spokesperson Jerry Ferguson told the Courier at the time.
Police spoke with the driver, but no arrest was made and no charges have yet been filed.
Nathan, who sustained life-threatening injuries, was immediately flown to Phoenix Children's Hospital, where he is still fighting to recover.
Shortly after the incident, a GoFundMe page was started by Keri Eggers on behalf of Nathan's parents, Bob and Daphne, to assist with any financial burdens that may accrue as a result of his injuries. The campaign's fundraising goal was $10,000, but nearly $14,000 has already been donated.
Nathan's family has chosen not to comment very much about Nathan's condition and what they are going through — the Courier has tried reaching the family directly with no success. The last update they provided on the GoFundMe page on May 16 stated that the reason for not sharing regular updates is because of the nature of Nathan's injury.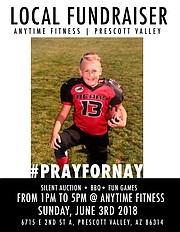 "The way a brain injury heals is tricky," wrote Kayla, Nathan's sister. "We don't know the "whys" of the healing, we're just happy to see any progression and prepared for the regression. We could have five good days and then a regression and not have another good day for the following week. And small things do not mean everything is good. We literally just do not know. That's not to say there haven't been great sorrows and large celebrations, but suffice it to say that it's a marathon, not a sprint."
Since Nathan's father is a fire captain with the Central Arizona Fire and Medical Authority (CAFMA), Rob Zazueta, a spokesperson for CAFMA, has served as a liaison between the family and the public.
Zazueta said while Nathan's condition has improved since the incident, the boy is receiving hours of physical therapy each day to help restore his motor functions.
FUNDRAISING EVENT COMING UP
The owner of Anytime Fitness in Prescott Valley, Leanne Shearer, has decided to assist the Rendl family by hosting a fundraising event from 1 to 5 p.m. Sunday, June 3, at the gym, 6715 E. 2nd St., Suite A.

Through partnerships with other area businesses, the event will feature a barbecue, silent auction, bounce houses, craft tables and other family-friendly activities.
"There's so many different companies involved it's ridiculous," said Kara Krieger, a fitness trainer at the gym who is helping to coordinate the event.
Shearer knows the family and Krieger has a daughter who attends Liberty Elementary School with Nathan. Krieger's daughter happened to witness Nathan being struck by the vehicle, she said.
"That's how it was brought to my attention, and my dad was killed by a hit-and-run driver, so it hits kind of close to home for me," Krieger said.
The event is donation based and open to the public.
Tickets will also be sold during the event for a yoga class and a spin class taught that evening from 7 to 9 p.m., with all of the proceeds going to support the family as well.
For questions concerning the Anytime Fitness fundraiser, you may contact Shearer and Krieger by emailing pinkfornathan@gmail.com or calling 928-443-5701.
Related Stories
More like this story
SUBMIT FEEDBACK
Click Below to:
This Week's Circulars
To view money-saving ads...