State forestry to implement more closures to state-owned lands
Yavapai County not impacted yet

By
Max Efrein
|
mefrein
Originally Published: May 24, 2018 5:53 a.m.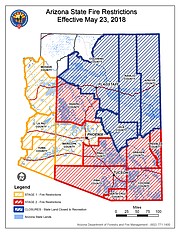 While all of Yavapai County remains in Stage 2 Fire Restrictions, a good portion of state-owned and National Forest lands have been closed for recreational purposes (see map).
As fire conditions worsen, more closures may come.
The most recent of these closures began at 8 a.m. Wednesday, May 23. The Department of Forestry and Fire Management implemented closures that morning for Coconino County, south of the Grand Canyon, and Gila County.
All recreational uses of the land, including hunting, camping, and off-road vehicle driving are now prohibited until further notice. As a reminder, target shooting and fireworks are never allowed on state lands at any time.

"Closures are not something we ever want to do or that we take lightly," said State Forester Jeff Whitney.
"But, unfortunately, the time comes when we must look at that option, have discussions, and make the decision based on what's best to assure the safety of our residents and our firefighters."
While state trust lands outside incorporated municipalities are closed within the aforementioned counties, all Arizona Game and Fish Commission Wildlife areas and department properties outside incorporated municipalities will remain open under Stage 2 Fire Restrictions.

Arizona State Parks will also remain open with fire restrictions in place. For park-specific fire restriction information please refer to https://azstateparks.com/arizona-state-park-fire-restrictions-and-info.
All mechanical operations must also cease on closed lands; except organizations on mineral soil involving road excavation, watering, grading, gravel surfacing and rock crushing, as long as special permission has been granted.
EXEMPTIONS
Persons with a written fire entry and activity permit that specifically authorizes the permitted to be on the land. This may include such persons as grazing-permit holders when entry is needed to gather, move, or otherwise manage their permitted livestock, special-use authorization holders when access is needed to maintain emergency or other communications operations, and others.
Any federal, state, or local law enforcement
officer, or member of an organized rescue or firefighting organization in the performance of an official duty.

Resident owners and lessees of land within the closed area.

Any closure exemption must be approved by the State Forester.

These closures do not apply to private lands under ARS § 37-1303.

PRESCOTT NATIONAL FOREST
While conditions on the Prescott National Forest (PNF) are dry and showing signs of drought stress, current scientific indicators or fire behavior are not at levels that warrant precautions above Stage 2 Fire Restrictions, said PNF spokesperson Debbie Maneely.
There is also no current shortages of firefighting resources in the region. However, fire managers for the forest service are monitoring the conditions and resources on a daily basis.
"If the conditions and situation reach critical levels combined with a lack of Stage 2 effectiveness, forest leadership will consider the next steps and mitigations where the probability of success is high in preventing a human-caused fire," said PNF Fire Staff Officer Pete Gordon.
More like this story
SUBMIT FEEDBACK
Click Below to: