Originally Published: May 24, 2018 11:45 p.m.
Updated as of Friday, May 25, 2018 4:24 PM
EDITOR'S NOTE: Thursday night's Prescott City Championship finished too late for Friday's deadline of The Daily Courier. Look for this write up in the Saturday sports section.
Zane Gaul's RBI base hit in 8th seals title, perfect season for Farmers
PRESCOTT — Entering Thursday night's Prescott City Championship Tournament title contest, Farmers Insurance faced an opponent it had run-ruled twice before during the regular season.
Kiwanis wasn't backing down this time, however, forcing both teams to play out an extra-inning thriller deep into the night under the lights at Bill Vallely Field in Prescott for a chance to play in the Tournament of Champions next month.
Farmers Insurance and Kiwanis grinded through eight innings of more-than decent Little League baseball, but in the end, only one team could win.
Zane Gaul's walk-off RBI base hit to right field in the bottom of the eighth inning scored Ryan Elliot, giving Farmers Insurance its coveted perfect season and a 3-2 victory over Kiwanis to claim the championship Thursday night.
It is the 15th straight victory for Farmers Insurance, which trailed 2-0 until Luke Mason scored on a passed ball to make it 2-1 in the fourth. Ethan Warren tied the game at 2-2 in the bottom of the fifth after a wild pitch by Kiwanis starting pitcher Andrew Lyon before Gaul's heroics in the eighth.
Four of the five runs Thursday night were scored without the benefit of a base hit. Gaul's walk-off hit was the only RBI of the night.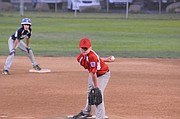 "I was just looking for a good hit, I wasn't trying to hit a home run or anything. I wasn't trying to be selfish," Gaul said. "I feel like I couldn't have done it without my team, if they didn't get on base, my hit doesn't matter."
Gaul took the ball for Farmers Insurance (15-0) and managed only 3-1/3 innings, surrendering two runs before reaching 86 pitches, forcing skipper Terry Magnett to pull him out of the game.
Elliot came on in relief, and was brilliant, pitching 4-2/3 innings and not allowing a run to earn the win.
"Every time I heard my coach saying, 'Ryan you got this,' I stuck with my mindset and I knew I would go at them and hopefully get the win. And we did," Elliot said, adding he didn't expect Thursday night's championship to be so nail-biting.
"I knew it was going to be a good game, but I didn't think it was going to go a full eight innings like it did," Elliot said. "They are a good opponent. … If we were to lose, they would have deserved it."
Elliot said this season's 15-0 mark redeems his club's dismal 2-12 performance a year ago.
"I think it was really important for us, last year was our best season, 2-12, so this year was a bounce-back year for us," Elliot said.
Kiwanis (11-5) skipper Scott Lyon credited Farmers Insurance on a well-played game, and gave kudos to his own starting pitcher, Andrew Lyon.
"Andrew pitched his heart out tonight. Defense was outstanding. Where the kids started at the beginning of the year to now is just phenomenal," Lyon said. "This, for the championship game, I think everybody was really nervous toward the end. … They still battled through, battled until the end."
UP NEXT
The 2018 Tournament of Champions is scheduled for Friday, Saturday and Sunday, June 1-3, in Williams. Who Farmers Insurance will face representing the City of Prescott has not been announced.
Brian M. Bergner Jr. is sports editor for The Daily Courier. Follow him on Twitter and Instagram at @SportsWriter52, or on Facebook at @SportsAboveTheFold. Email bbergner@prescottaz.com or call 928-445-3333, ext. 1106.
More like this story
SUBMIT FEEDBACK
Click Below to:
This Week's Circulars
To view money-saving ads...