Editorial: Close the forest, don't take chances
Originally Published: May 24, 2018 6:05 a.m.
Document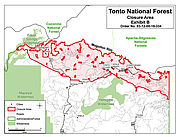 It is time to close the Prescott National Forest.
Forests to the north and east of Yavapai County have done so, because of drought conditions and lack of precipitation.
Yavapai County, including the Prescott National Forest, is currently in Stage II Fire Restrictions. This means, according to the PNF, bans on:
1 - Building, maintaining, attending or using a fire, campfire, charcoal, coal, or stove fire, including fires in developed campgrounds and improved sites.
2 - Smoking, except within an enclosed vehicle or building.
3 - Discharging a firearm, air rifle, or gas gun, except while engaged in a lawful hunt pursuant to state, federal, or tribal laws and regulations.
4 - Operating any internal combustion engine between the hours of 9 a.m. to 8 p.m.  Chain saws must have an operational spark arresting device.
5 - Welding or operating acetylene or other torch with an open flame.
The Forest Service reports on its website that the fire restrictions "are proving effective. We have seen a significant downward trend in illegal campfires on the Forest and very few wildfires."
Plus, "Year to date, the Prescott National Forest has only had 8 (eight) human-caused wildfires for a mere 1.2 acres."
Document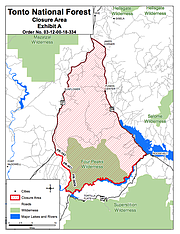 However, we're asking Forest officials to take the box of matches completely away from the tinderbox, to make the odds of avoiding a wildfire even better.
The wildfire earlier this month that raged on the north side of Prescott Valley should be evidence enough, along with a host of smaller fires across the Quad Cities. And, while those have not been part of the forest, even a layman can see that our brown mountainsides are in just as bad of shape or worse.
Officials warn that Coconino and Kaibab forests are worse off than that of the Prescott forest. They also state: "While conditions on the Prescott National Forest are dry and showing signs of drought stress, current scientific indicators of fire behavior are not at levels that warrant precautions above Stage II Fire Restrictions. There is also no current shortages of firefighting resources in the region."
Many of us lived through the Indian Fire, which started May 15, 2002, and threatened to storm into downtown Prescott. We also witnessed others, such as the Gladiator Fire (2012), Doce Fire (2013), Yarnell fires (2013 and 2016), and Goodwin Fire (2017) – to name only a few.
Further, most fires are human caused. Statistics show less than 10 percent are the result of nature, according to the National Park Service.
"Rest assured, Fire Managers on the Forest are monitoring the conditions and resource situation on a daily basis." Prescott National Forest Fire Staff Officer Pete Gordon says: "If the conditions and situation reach critical levels combined with a lack of Stage II effectiveness, Forest Leadership will consider the next steps and mitigations where the probability of success is high in preventing a human-caused fire."
We appreciate that. Still, preventing a wildfire from starting goes beyond the public; and it feels like everyone is playing the odds when it comes to the forest that surrounds this area.
At the end of the day, regardless of what the Forest officials decide, remember that "only you can prevent wildfires," as Smokey Bear says, which we covered in our May 22 editorial.
Be diligent, and do nothing that can cause a spark or start a fire here.
Related Stories
More like this story
SUBMIT FEEDBACK
Click Below to: