Why some court cases drag on for years
Some of the county's longest inmates await trial

By
Max Efrein
|
mefrein
Originally Published: May 23, 2018 6:02 a.m.
There's a man who's been in the custody of the Yavapai County jail for more than 10 years, and his trial is still not in sight.
Another man has been in custody for more than six years, and, similarly, trial dates are yet to be determined. Three others have been in custody for at least three years, and about 18 others have been locked up for at least two years.
Some of these inmates may be simply serving their time, but most are in a form of purgatory; they've been charged for criminal acts, but not yet sentenced.
These longtime inmates only represent about 4 percent of the jail's current population, which was 535 as of May 18, and do not represent the norm. The average length of stay in most cases is 21 days, according to the Yavapai County Sheriff's Office (YCSO).
"Generally, inmates on misdemeanor charges are there three to four days," said YCSO spokesperson Dwight D'Evelyn.
Every day someone is held in the Yavapai County jail, it costs the county anywhere between $80 and $120, D'Evelyn said. The per-inmate daily cost fluctuates depending on the overall population of the jail, he said.
"Block jail space is staffed and supported regardless of whether there are 10 inmates or 100 inmates in that housing area."
Obviously, the longer an inmate is in custody, the more it costs the county – and, ultimately, its taxpayers.
While Yavapai County Sheriff Scott Mascher understands this, he reminds people that his office has no control over the length of stay for inmates.
"Issues between prosecutors, defense attorneys and the courts all play a role in varying degrees as to why these cases have not been adjudicated," Mascher said, referring to the longtime inmates.
HOW CASES ARE DELAYED
Elizabeth Ortiz is a career prosecutor. She spent 16 years as a prosecutor with the Maricopa County Attorney's Office, and is currently the Executive Director of the Arizona Prosecuting Attorney's Advisory Council.
In her experience, cases can be delayed for a number of different reasons.
One is if the court – by its own initiative – decides to push off a case due to a scheduling conflict. This is more likely to occur in a smaller county where perhaps only one or two judges are handling all of the caseloads.
"It's probably the least common of the reasons why things get continued," Ortiz said.
Another way a case is delayed is if a prosecutor requests a continuance. A prosecutor might do this if a victim is not available for a timely interview or a set trial date. Or sometimes a prosecutor is the one with a scheduling conflict.

"Maybe the prosecutor has two homicide cases and they both got set for trial, and you can't be in two places at the same time," Ortiz said.
However, Prosecutors typically do their best to keep things on track and not allow a case to run on too long, Ortiz said.
"Generally speaking, delay does not benefit the prosecution," she said.
In other words, the longer a criminal case drags on, the less likely it is of there being a conviction.
"Witnesses move, memories fade, evidence sometimes inadvertently gets destroyed … things happen," Ortiz said.
Then there are continuances requested by the defense.
"In my experience, that's the most common way that cases are continued," Ortiz said.
Of course, defendants have the right to a speedy trial, but if they wish to take additional time to prepare their case, judges will typically allow it, Ortiz said. If not, the case could be vulnerable to an appeal.
Other factors that can significantly delay a case are if attorneys or judges are replaced during the proceedings. For some of longest cases currently ongoing in the Yavapai County Superior Court, these are major contributors to their length.
For instance, in the case involving Cesar Garcia-Soto, which is over 10 years old now, five judges have overseen the case and multiple defense attorneys have worked on it. Every time one of these changeovers occurs, the new judge or attorney needs time to get up to speed on where the case is at and what still needs to be done to reach a conclusion, Ortiz said. This is especially difficult when the case is deemed complex -- meaning there are a lot of moving parts to review and manage.
Mental health, substance abuse evaluations and treatment also add time to cases. But all are considered standard procedure when necessary, Ortiz said.
However, if a case is running on too long and Ortiz believes the defense is being granted too many last-minute continuances, she'll sometimes put some pressure on the court to hold the defense accountable of everyone's time – especially if a victim is patiently awaiting a verdict.
"I kind of professionally, but firmly say, 'I've got my ducks in a row and I want to make sure everyone's ducks are in a row,'" Ortiz said.
MEET THE INMATES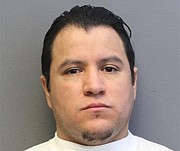 Cesar Garcia-Soto (10+ years) Held without bond
Cesar Garcia-Soto, 37, was arrested in February 2008 and charged with first-degree murder and two counts of child abuse in connection with the death of his 3-month-old son. He faces the death penalty if he's convicted. Sedona firefighters were called to his apartment in the Village of Oak Creek the night of Jan. 23, 2008, and discovered the child, Edwin Alejandro Garcia, was unconscious and not breathing. Garcia-Soto was the only adult at the apartment. Edwin was taken to St. Joseph's hospital in Phoenix, where he died three weeks later. Doctors said he had "highly suspicious" injuries: a fractured skull and pelvis, according to Yavapai County Sheriff's Office investigators, and a broken arm and several broken ribs that appeared to be a result of older incidents. Learn more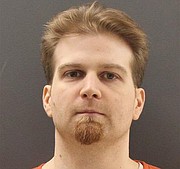 Kenneth Wayne Thompson II (6+ years) Held without bond
Kenneth Wayne Thompson II faces the death penalty if convicted of the murders of two Prescott Valley residents. Thompson, 35, was arrested in connection with the deaths of Penelope Edwards, 35, and Troy Dunn, 38, of Prescott Valley. They were found dead in a burned-out home in the 4000 block of North Tonopah Drive on March 16, 2012. Both victims sustained head trauma and their deaths were ruled homicides. Thompson is charged with two counts of first-degree murder, two counts of misconduct involving weapons, and one count each of arson, burglary, criminal damage, and tampering with physical evidence. Learn more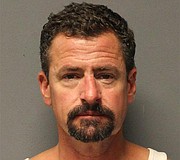 Seth Lawrence Collins (3+ years) $75,000 bond
Charges against Seth Lawrence Collins, 47, stem from a 2014 crash and 2015 indictments. On Nov. 21, 2014, a pickup and a minivan collided on Highway 260 near the Yavapai Justice Facility. Police found that a white GMC pickup crossed the center line and struck a minivan head-on in its eastbound lane. The minivan carried three adults and five juveniles. The pickup's driver, Seth Collins, was alone in his vehicle. Everyone was hurt, some seriously. This case includes 12 counts of aggravated assault, two counts of endangerment, four counts of aggravated DUI, criminal damage, possession of methamphetamine, possession of diazepam and two counts of paraphernalia, for 23 counts total. In April 2015, Collins, while in jail, was charged with promoting prison contraband. In mid-2015, Seth Collins was indicted on 23 counts stemming from the 2014 crash. Learn more
Follow Max Efrein on Twitter @mefrein, email him at mefrein@prescottaz.com or call him at 928-445-3333 ext. 1105.
Related Stories
More like this story
SUBMIT FEEDBACK
Click Below to:
This Week's Circulars
To view money-saving ads...