Uber pulls plug on tests of self-driving vehicles in Arizona

Originally Published: May 23, 2018 11:25 a.m.
Updated as of Thursday, May 24, 2018 6 AM
See Related Story
Federal investigators say the autonomous Uber SUV that struck and killed an Arizona pedestrian in March spotted the woman about six seconds before hitting her, but didn't stop because emergency braking was disabled.
PHOENIX - Unable to currently test its self-driving vehicles in Arizona in the wake of a fatal mishap in March, Uber has decided to pull the plug on that program here.
"We're committed to self-driving technology and we look forward to returning to public roads in the near future,'' the company said in a statement Wednesday. That, the company said, will follow a "top-to-bottom'' safety review after a self-driving Uber smashed into and killed a pedestrian in Tempe without even trying to stop or avoid her.
But any future testing won't be in Arizona. Instead, the company plans to resume those road tests, when ready, in Pittsburgh and San Francisco.
Today's decision does not affect the company's ride-sharing service with drivers operating their own vehicles. Also unaffected is the "Uber Eats'' program which provides food delivery from certain restaurants.
Uber voluntarily halted all testing following that fatal incident, though until now it has kept its employees involved in that program on the payroll. But that accident also resulted in Gov. Doug Ducey, who had openly courted Uber and altered state rules to encourage testing of autonomous vehicles, suspending their ability to have driverless cars on Arizona roads.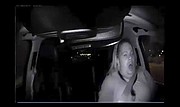 Gubernatorial press aide Daniel Scarpinato said his boss was informed of the company's decision late Tuesday.
"The governor's focus has always been on what's best for Arizonans and for public safety, not for any one company,'' he said. And Scarpinato made it clear that if Uber changes its mind and decides it likes testing vehicle on Arizona roads it can't just waltz back in here.
"The governor's suspension of Uber's self-driving vehicle testing remains in place pending the outcome of federal investigations,'' he said.
It was Ducey who shortly after taking office in 2015 declared Arizona to be a haven for testing autonomous vehicles, free of the kind of restrictions and oversight that other states were imposing.
In 2016, the governor personally welcomed the first of Uber's self-driving test vehicle, which were hauled to Arizona after Uber rejected the demand of California transportation officials that they be specially licensed and registered as test vehicles. Ducey said at the time that shows Arizona is friendlier for business than its neighbor to the west.
"The message today is Arizona's open for business,'' the governor said at the time. "We're welcoming this technology. We're not pushing it out of our state.''
And Ducey specifically insisted that public safety would not be compromised by his decision to allow Uber to test its self-driving vehicles on Arizona roads even before the state had adopted rules for their use.
But Ducey, in that 2016 event, sidestepped a question of whether he should be held personally responsible if someone is injured or killed in Arizona as a result of problems with one of these vehicles.
"These cars are going to be insured,'' he responded.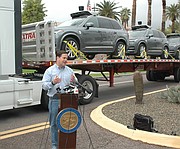 Ducey's attitude changed after he viewed a video released by Tempe police of the March 18 accident that killed a pedestrian.
"I found the video to be disturbing and alarming, and it raises many questions about the ability of Uber to continue testing in Arizona,'' Ducey wrote to CEO Dara Khosrowshahi earlier this year. One angle showed the person behind the driver's seat looking down, possibly at a phone; the other through the windshield showed the car hitting the woman.
But Scarpinato said at that time it wasn't only the pedestrian death that caused his boss to have second thoughts to that open-door policy of testing of autonomous vehicles on Arizona roads. He said there needs to be a review of Uber's overall testing and technology.
Ducey's action came a day after the New York Times reported that Uber's effort to put autonomous vehicles on the road was having problems even before the accident in Tempe.
Documents reviewed by the newspaper said that Uber was struggling to meet its target of having vehicles go at least 13 miles before a human driver needed to intervene. At the same time, the Times reported, the company was having tests done by solo drivers rather than its previous practice of having two people in each test vehicle.
Uber said it will provide help to its now-former employees, including resume and interview prep as well as one-on-one coaching.
But the company said its other operations still employ more than 550.
The accident in Tempe and other incidents across the nation have taken their toll on confidence in the safety of self-driving cars.
In a survey released Tuesday, AAA said 73 percent of American drivers said they would be "too afraid'' to ride in an autonomous vehicle. That compared to 63 percent last year.
Greg Brannon, director of automotive engineering and industry relations for AAA, said that is not surprising.
"Any incident involving an autonomous vehicle is likely to shake consumer trust, which is a critical component of the widespread acceptance of autonomous vehicles,'' he said in a statement.
Related Stories
More like this story
SUBMIT FEEDBACK
Click Below to:
This Week's Circulars
To view money-saving ads...