Drilling rig topples near Phoenix airport, worker is trapped
Arizona in Brief
Originally Published: May 22, 2018 6:01 a.m.
PHOENIX — Cranes, back hoes and other heavy equipment are being set up to move a drilling rig that toppled on its side near Phoenix Sky Harbor International Airport, trapping a construction worker.
The rig fell over about 9:30 a.m. Monday during construction for the Sky Train guideway system.
Airport operations aren't affected by the accident.
Phoenix Fire Department officials have not released the name or condition of the construction worker.
They say lighting equipment also is being set up in case the operation stretches into the night.
Phoenix Fire technical rescue teams are at the scene to monitor the safety of the operation and assist in making the connections necessary to move the drilling rig.
Authorities say the trench where the rig toppled is unstable and that has complicated the situation.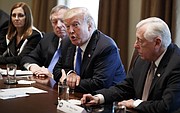 McSally: GOP leaders vowed to hear her immigration bill
PHOENIX — Republican Congresswoman Martha McSally says the House GOP leadership has committed to hearing her hardline immigration bill in early June.
The Arizona Republic reports McSally told voters gathered Saturday in Scottsdale for her Senate campaign event that the House leadership promised to hear the proposal she helped craft.
The measure, sponsored by Rep. Bob Goodlatte, R-Virginia, would reduce legal immigration and authorize new funding for border security, including President Donald Trump's proposed wall along the U.S.-Mexico border.
The bill also would give temporary legal protections to younger undocumented immigrants brought to the U.S. as children.
Democrats and conservative Republicans cast her pivot to the stricter measure as an election-year maneuver ahead of Arizona's August 28 Republican Senate primary. McSally defended the move, saying she began working on the legislation long before entering the Senate race.
More like this story
SUBMIT FEEDBACK
Click Below to:
This Week's Circulars
To view money-saving ads...