Scientists find no cancer-causing erionite at Kirkland mine site

Originally Published: May 21, 2018 6:05 a.m.
The U.S. Bureau of Land Management has received results of scientific tests indicating there is no erionite or harmful asbestos-like materials present on the proposed pozzolan mine in Skull Valley. Residents of Skull Valley and the surrounding area have voiced concerns over the possible presence of erionite, water use, dust and increased traffic.
Five completed studies on the 88 acres of public land and adjacent private property have been filed with the BLM: geochemical assay, jurisdictional waters, evaluation of Skull Valley Ranch Wells, traffic impact, and supplemental traffic analysis.
The results of the geochemical assay testing should put to rest the misinformation about the presence of erionite. It just isn't there.
Five material sampling and testing programs took place over two years – some funded by Kirkland Mining Company, others funded independently by the Bureau of Land Management.
Opponents believed erionite, or some other form of harmful asbestiform silica, was present in the pozzolan materials and would create a dangerous health hazard for the nearby community and along proposed transportation routes through Prescott and Chino Valley.
KMC hopes to quarry and crush rhyolite and rhyodacite volcanic tuffs for use as a supplement in commercial concrete production. BLM and the Arizona Department of Environmental Quality (ADEQ) require various safety studies prior to initiating mining activities.
"The owner has been very proactive compared to most of my mining operators," said Rem Hawes, BLM Hassayampa Field Office manager. "This particular operator has stayed in compliance with all requirements, has not balked at any of the requests we make on an operation like that. And we've made pretty detailed requests of her."
KMC Engineer Joe Thomas, who has spent 30 years working with pozzolan mines in Idaho, said pozzolan fortifies and strengthens concrete. Pozzolan "densifies" concrete cement, so water and chemicals won't soak in.
He made his remarks during a Feb. 10 Community Outreach and barbecue event hosted by KMC President Areta Zouvos.
"From a health standpoint, I can assure you my lungs are fine. Every mine you open you have to get people educated and to understand dust is not a health issue, it's a nuisance," Thomas said.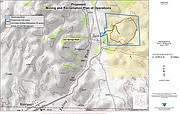 DUST
Some residents have been vocal in their fears of potential airborne carcinogens. KMC scientists conducted tests from 2015 to 2017, which resulted in no findings of identified airborne carcinogens.
Because of continued negative public comment, however, KMC owners allowed BLM to take independent samples which were analyzed by the BLM Soils Testing Laboratory in Wyoming and EMSL Analytical, Inc. Scientists looked for asbestos mineral, erionite and crystalline silica. No asbestos or erionite crystals, fibrous or otherwise, were identified.
BLM geologist Shelby Cave said, "The majority of the material found at the proposed Kirkland Mine site is volcanic ash, a type of silica that is not a known carcinogen. This volcanic ash is the material that would be mined as a high-quality pozzolan at the proposed mine."
Cave also said they found trace amounts of quartz, a crystalline silica. "If this type of silica is in dust form, it has the potential to be carcinogenic if it is inhaled. For this reason, the mining plan of operations for the proposed mine is required to include strict dust control measures in accordance with state and federal regulations, which are monitored by the Mining Safety and Health Administration and the ADEQ Air Quality Division."
Since silica dust, whether it is from quartz or volcanic ash, is a hazard that can be seen, Cave encourages the public to report any dust sighting to ADEQ.
The study indicates the risk of respirable crystalline silica at this proposed operation is lower than at most mining and quarry operations. It recommends KMC put in place "industry standard dust controls" monitored by ADEQ.
The mining company's May newsletter reports several measures its team and professional consultants are using to evaluate dust control measures. These include site layout plans to minimize haul roads, equipment shuttling, stockpile movement and other ground disturbances; defining water consumption and developing less water-intensive measures for dust control; looking at operating processes to minimize potential emissions points, and operating hours for equipment and power generators; using state-of-the-art equipment for monitoring and measuring emissions for consistent control and rapid response.
WATER
The mining process requires no water or chemicals other than water for dust control, the mining proposal states. KMC estimates an average demand of 28,800 gallons per day (gpd), with a maximum demand for 35,000 gpd, when mining operations reach full capacity in five years. This equals 23- to 28- acre feet per year over the projected 40-year mine life.
KMC is looking at purchasing, or contracting for water purchase, on property on which two existing irrigation wells are located north of the mine site. In November, it hired Plateau Resources to evaluate the condition of the wells and what effects might occur from pumping water from these wells.
Historically, ground water depths in Skull Valley wells are relatively shallow, typically less than 50 feet, the April 2 draft report states. The water level at one of the wells has dropped about 14 feet since the 1930s; the other has dropped four to five feet since 1951.
The proposed water use is expected to be between 2 and 4 percent of past agricultural and domestic water use in Skull Valley. Nearby irrigated ranchland has consumed at least two times more water than the maximum demand expected for the mine.
Although KMC's water use will represent a very small fraction of that used in the local area, Zouvos said she recognizes the need to conserve this resource.
TRAFFIC
On Iron Springs Road at the entrance to the mine property, the posted speed is 35 mph. However, the March 5 Traffic Impact Study by Lee Engineering indicates average speed is 58 mph heading northbound, and 63 mph southbound.
At full operating capacity five years from the start of operations, the company anticipates 80 empty trucks will arrive, 80 full trucks will depart in a 24-hour period. This means four entering and four exiting trucks per hour. A maximum of 27 employees will generate an additional 50 vehicles trips per day.
Yavapai County traffic guidelines do not warrant a right-turn lane or exclusive left-turn lane into the site because of low traffic volume and adequate stopping sight visibility. The study does recommend advanced warning signs for the site entrance.
KMC has three proposed routes; depending on the distribution and direction of haul material, the number of trucks on any designated roadway could decrease proportionately, the study indicates.
COMMUNITY
The estimated population of Skull Valley in 2016 was 526 for the area covered by zip code 86338.
Pam Kramer, a 20-year resident, attended the Outreach event. She hadn't spoken to the owners, engineers or geologists present in the room.
"Why did the mine close? There must have been environmental reasons. Seems to me it closed for a reason," Kramer said.
She also was concerned about dust. "This is a valley and we get a lot of wind. Will it stay or clear out?"
The Courier received an April 27 email from Thomas, who is also the executive director of the Natural Pozzolan Association. He offered several facts about natural pozzolans in general, and the KMC pozzolan deposit in particular.
"Natural pozzolans have been safely employed in high quality concrete for millennia – Roman structures such as the Coliseum and the Pantheon are among the first examples of such construction," Thomas wrote.
Without pozzolans, modern buildings, bridges, highways, and concrete infrastructure are susceptible to degradation, causing rapid and irreversible deterioration, he added.
Thomas believes the KMC pozzolan will be regionally important and highly valued.
The second point he makes is that crystalline silicates, such as beach sand, are considered a health hazard when in a respirable form.
"Most natural pozzolans, including the KMC deposit, are an amorphous form of alumino-silicate without the crystalline structure, and are the result of volcanic eruption. Amorphous silicates are not considered a health hazard by the federal Occupational Safety and Health Administration, but rather a nuisance dust," he said.
The results of the geologic studies and tests through independent certified laboratories have shown that no erionite exists, Thomas wrote.
Pozzolan aggregates have four times the insulation value of regular concrete. "To put that in perspective, a pumice concrete basement with 8-inch walls has the same insulation value as regular concrete with 32-inch walls," Thomas said.
For full reports, visit the project website at https://go.usa.gov/xnJFX. For more information on the mine, visit www.kirklandmining.com.
Follow Sue Tone on Twitter @ToneNotes. Reach her at stone@prescottaz.com or 928-445-3333, ext. 2043.
More like this story
SUBMIT FEEDBACK
Click Below to: