Arizona in Brief: Tucson officer's belt stops bullet in 'way too close a call'
Originally Published: May 21, 2018 5:57 a.m.
Tucson officer's belt stops bullet in 'way too close a call'
TUCSON, Ariz. — Tucson police say an officer narrowly escaped injury during a domestic violence incident when a bullet hit the officer's belt.
Sgt. Pete Dugan says the officer was one of two responding to a call at a home Friday night when an exchange of gunfire broke out.
Dugan says no one was injured but Police Chief Chris Magnus said in a Twitter post Saturday that the incident was "way, way, way too close a call."
Police say the suspect was arrested after the officers fired back.
The identities of the officers and the suspect weren't released. No additional information was immediately available.
3 critically injured, 2 others hurt in Gilbert rollover crash
GILBERT, Ariz. — Police say three people are hospitalized in critical condition after a rollover accident in Gilbert.
They say two others suffered minor injuries in Saturday's crash.
Gilbert police tried to pull over the car, but the vehicle sped from the scene.
Police officials say officers didn't pursue the vehicle and instead alerted neighboring law-enforcement agencies.
The five occupants of the sedan were ejected when it rolled over several times.
Police say the injured were two 18-year-olds and three passengers ranging between the ages of 15 and 17.
Their names weren't immediately released.
Hopi Tribe ask governments for help in land exchange efforts
FLAGSTAFF, Ariz. (AP) — The Hopi Tribe has reached out to local governments for help as it attempts to finalize a land transfer under an agreement between the tribe and the Navajo Nation.
The Hopi Tribe was promised nearly 23 square miles (60 square kilometers) of state trust land south of Interstate 40 and east of Flagstaff in a 1996 agreement approved by Congress in a dispute over overlapping boundaries of Hopi and Navajo reservation lands, the Arizona Daily Sun reported last week.
Recent efforts on the land transfer by U.S. Sen. John McCain's office and the state Land Department were stymied by the inclusion of national forest tracts in the Flagstaff area.
The tribe has decided to reach out to local governments for support as it looks to finalize the land transfer through condemnation or a land swap without the original list of Flagstaff-area parcels.
Tribal Chairman Tim Nuvangyaoma has asked Coconino County Board of Supervisors and Flagstaff City Council to call on Gov. Doug Ducey and the State Land Department to follow through.
"Having you guys stand side by side with us approaching the government at Gov. Ducey's office would mean a lot to us," he told supervisors. "We'd like to start moving forward and finding some solace and some peace of mind in getting this done."
If that strategy fails, the tribe will ask the Flagstaff City Council and the county to work with it to identify federal lands in Coconino County that would be suitable for some kind of land swap.
With the Navajo Generating Station expected to close at the end of next year, Nuvangyaoma said it's even more important for the tribe to acquire the lands, which could serve as a potential source of new revenue.
The Board of Supervisors did not immediately respond to the tribe's request for support, but several board members have expressed a desire to get involved.
"I think we're at a place where we really need to settle this," Supervisor Lena Fowler said.
Nearly 1,000 bales of hay burned in fire in the Buckeye area
BUCKEYE, Ariz. (AP) — Authorities say nearly 1,000 bales of hay have been burned in a fire in the Buckeye area west of Phoenix.
Officials with the Buckeye Valley Fire District say the blaze was reported about 2 a.m. Sunday in an area north of Gila River.
The cause of the hay fire isn't immediately known.
Crews battled the fire into Sunday and firefighters prevented the blaze from spreading to other haystacks in the area.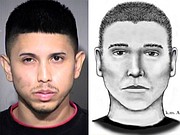 Hearing set for Phoenix man charged with killing 9 people
PHOENIX (AP) — A court hearing is scheduled for a former city bus driver charged in a string of deadly nighttime shootings in Phoenix.
It's unclear whether Aaron Juan Saucedo will attend Monday's hearing.
He has chosen not to attend several previous hearings.
Saucedo has pleaded not guilty to murder and other charges in attacks that killed nine people and wounded two others during a nearly one-year period that ended in July 2016.
Prosecutors are seeking the death penalty in eight of the deaths.
Defense attorneys have asked a judge to take the death penalty off the table as punishment after video of Saucedo in his jail cell was released to news media in January.
The judge hasn't yet ruled on the request.
More like this story
SUBMIT FEEDBACK
Click Below to:
This Week's Circulars
To view money-saving ads...