Originally Published: May 20, 2018 6:02 a.m.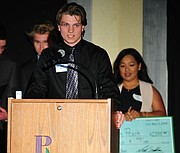 Prescott holds many award ceremonies throughout the year for the best people in our community. But these awards aren't just for adults. Along with awarding the Prescott Man and Woman of the Year, Prescott also gives awards for the female and male youth Leader of Year. These awards honor teens who are making a difference in our community and truly reaching for the stars.
The male youth award was awarded to a young man named Ryan Peach. Ryan is a senior at Prescott High School. He has been a part of his student council and is currently the Class President. But he wasn't always this involved with helping others, leadership and networking. Not until he really got involved with a group called Young Life.
Young Life is a Christian group that links caring adult leaders with kids and teens, sort of like a mentor program. They listen to the kids, give them a place of support, and help them to become the best version of themselves. This program gives kids a place to be understood, and this is where Ryan found his connection to his future.
After he graduates high school, Ryan plans to attend Grand Canyon University in order to study Theology and Youth Ministries. His involvement with Young Life has touched his life so much that he wants to take his love of leadership and apply it into the program, becoming a leader within it.
"If you would have asked me just two or so years ago if I wanted to work with kids, I would have said no. But after my experience with Young Life and my role in school leadership, I do. I really want to help kids see their value and worth. I want them to know they can do anything they want."
Winning the youth leader award came as a shock to him, and he claims he was "over the moon" with excitement when he found out. "I was just going about my day when I received an email about it. It made it hard to focus on my work that day. I was so excited and honored," he explained. He wanted to thank his parents, Steve and Cathy, as well as his mentor, John Mackin. They have all been a great support for him.
The female winner of the youth award was given to a young woman named Kateri Wrublik. Kateri is a senior at the Arizona Agribusiness and Equine School. She has always enjoyed helping others, and she says that helping others is what truly makes her happy. She plans on using this love of helping others to make a difference on a global scale.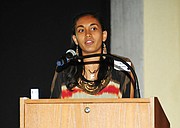 After high school, Kateri has plans to attend Arizona State University to study Public Service and Public Policy with a minor in Arabic, later hoping to get her Masters degree. Current affairs has been a focus for her over the years, with three years of JROTC and spending some time helping at the local VFW, she has been able to spend time looking outside the country to those who need help around the world, and she has found where she wants to be.
"Seeing people in other countries in the areas like the Middle East and parts of Africa who lack opportunities, especially the women, who can't go to school, or get clean water, it's sad. I'm just trying to help people no matter what I do," she explained. Her plans with her degree are to go and make a difference in these parts of the world.
While she enjoys the idea of working with groups like the Peace Corps, she explained that her dream is to start her own non-profit. She loves management and leadership, and in starting a non-profit would be able to target specific areas and issues that are close to her heart.
She is grateful for the award. She has won scholarships and other awards recently, but she says that she is so thankful for every one of them, as they each help her get a little closer to her dreams. She is also grateful to her parents, friends, relatives, an all those groups and people who have offered her scholarships to help her dreams come true.
Congratulations to this years winners!
More like this story
SUBMIT FEEDBACK
Click Below to:
This Week's Circulars
To view money-saving ads...