Walk for the Animals now at Mile High Middle School

Originally Published: May 18, 2018 6:02 a.m.
Yavapai Humane Society's seventh annual Walk for the Animals event is this weekend at Mile High Middle School.
Every year it gets a little bigger and a little better, said Yavapai Humane Society Marketing Manager Terri Davis. Normally it's at Embry-Riddle, but the goal was to engage more of the community, Davis said.
"We're trying to engage the town more," she said. "We thought maybe if we brought it downtown, it would encourage more people to stop by and enjoy our vendor booths and the walk itself."
Held Saturday, May 19, the walk starts around 9 a.m. with gates opening for registration at 8 a.m. Those interested can also register at Yavapai Humane Society, 1625 Sundog Ranch Road, on Friday, May 18. Registration is $35 per person and if families want to register it's $10 per family member after the initial registration fee.
There are two walks, Davis said. They include the one-mile walk along courthouse plaza and a 5k walk going along Granite Creek over to Granite Creek Park, she said.
The walk benefits the Yavapai Humane Society, Davis said. The homeless pets at the shelter are the community's homeless pets, she said.
"If you're coming you're supporting the community," Davis said, adding that the "neediest animals in our community are at our facility here."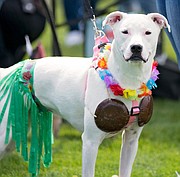 It's events like Walk for the Animals that allow the humane society to continue its mission, she said.
Alongside the walk are vendors, such as Whiskers Barkery and Timber Wolf, Davis said. Findlay Subaru will also be present as the main sponsor with some cars and giveaways like squeaky toys for dogs, she said. There's also the "Strut your Mutt," best dressed, pet/owner lookalike and best trick contests, Davis said.
Dogs can also go through a lure course which is a unique maze where a foxtail on a string leads them through and over obstacles, she said.
"That's probably our most popular thing," Davis said. "People love watching their dogs just have this absolute wonderful time that they would never be able to have anywhere else."
There's going to be a kids booth too, she said. There, kids can get bracelets they put their pets name on and make one for their pets, Davis said. They'll even learn how to approach a dog they don't know as well as other things about dog safety, she said.
Additionally, dogs will be up for adoption at the event and the organization's Spay, Neuter and Wellness Center will be selling microchips at a discount and doing some dog education and behavior education, Davis said.
Mile High Middle School is located at 300 S. Granite St. For more information about Walk for the Animals, visit www.yavapaihumane.org.
By Jason Wheeler, follow him on Twitter @PrescottWheels, reach him at 928-445-3333 ext. 2037
More like this story
SUBMIT FEEDBACK
Click Below to: