YBBBS' Promise Makers and Women of Influence honored
The 40 honorees have raised nearly $150,000 for YBBBS since September

Originally Published: May 17, 2018 6:02 a.m.
Deb Balzano, a volunteer Big Sister with Yavapai Big Brothers Big Sisters, was accompanied by Little Sister Gema as the two unveiled the Women of Influence and Promise Makers Wall of Honor at the Prescott Resort Wednesday, May 9.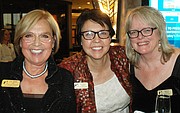 Juliana Goswick, president and CEO of Yavapai Big Brothers Big Sisters, said the idea for the wall came when she attended a conference last year and heard about a new way of connecting to women.
"Women have the strongest voice in philanthropy," Goswick said, "but when they aren't involved and you ask them why, they say it's because they've never been asked."
Goswick said thinking about women in leadership nationally and statewide made her think about female leaders in Yavapai County. "I started thinking, this is long overdue," Goswick said. "We've got to bring out women together because we're more powerful together."
The wall lists 40 women -- Promise Makers, who have pledged $1,500 annually, and Women of Influence, who have pledged $5,000 annually. Through those 40 women, Yavapai Big Brothers Big Sisters has matched 80 children and raised almost $150,000 since September, Goswick said.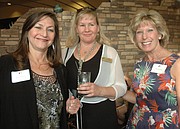 "These women are businesswomen, and they're investing in growth; they're investing in Big Brothers Big Sisters' vision of growth," Goswick said, adding that the women are active in recruiting couples and families as well as raising money to support matches.
"Our kids are depending on us," Goswick said.
The wall is sponsored by Cobham Aerospace, which has an office in Prescott, and Taylor and Padgett Financial Group, based in Prescott, is the Women of Influence sponsor, according to Robin Layton, Yavapai Big Brothers Big Sisters' director of community relations and marketing.
More like this story
SUBMIT FEEDBACK
Click Below to:
This Week's Circulars
To view money-saving ads...