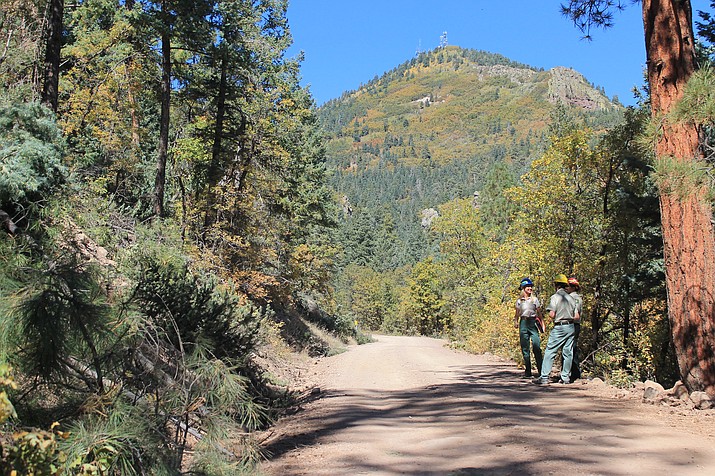 Originally Published: May 17, 2018 5 a.m.
FLAGSTAFF, Ariz. (AP) — A major wildfire and flooding on a forest peak could cause between $379 million and $694 million in damages to a northern Arizona city, according to a study.
The Northern Arizona University study, which was presented to Coconino County supervisors Tuesday, examined how post-fire floodwaters flowing down the slopes of Bill Williams Mountain would threaten the city of Williams, the Arizona Daily Sun reported .
The damage evaluation was calculated by estimating the costs associated with repairs, tourism revenue losses, freight delays on Interstate 40 and damage to communications infrastructure.
The study analyzed how a fire with similar size and intensity to the Shultz wildfire that struck the Flagstaff area in 2010 would affect Williams. The 2010 fire had a financial impact between $133 million and $147 million, according to the study.
Williams is about 30 miles (48 kilometers) west of Flagstaff.
The study also found nearly 950 structures would be at risk due to possible flooding.
The conclusions reached in the study are likely conservative, Wade Rousse said, an author of the study and interim director of the university's economic policy institute. The study did not examine other negative effects from such a catastrophe, like the loss of employee income from business closures and catastrophe-related health problems, Rousse told the supervisors.
Examining the potential impacts of severe wildfire helps county officials prioritize future projects and validate its focus on forest restoration, county supervisor Matt Ryan said.
The study is an example for why officials need to expand forest restoration efforts and the cultivation and development of a local forest products industry, county supervisor Art Babbott said.
See related stories from Williams-Grand Canyon News:
Pre-disaster flood planning is underway in Williams