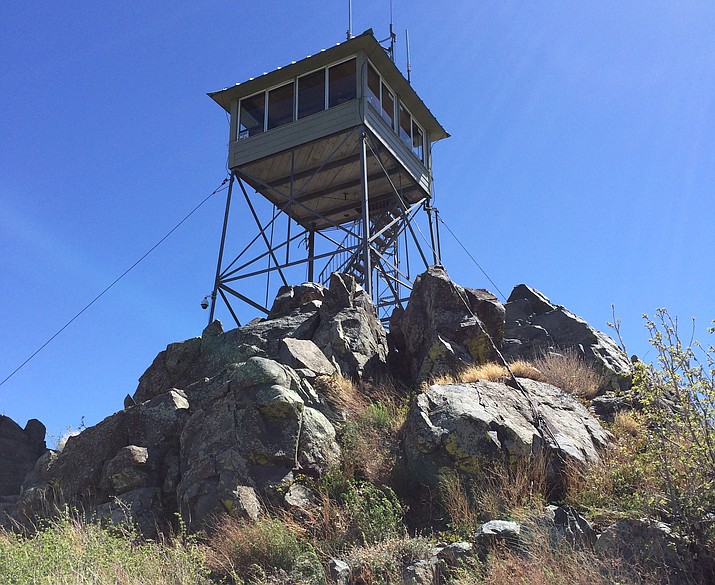 Originally Published: May 17, 2018 6:02 a.m.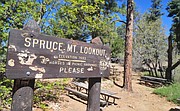 Four lookouts arrive at their posts on the Prescott National Forest every morning during fire season. They provide a valuable service to everyone and everything in the forest and in nearby communities, towns and cities.
Although the line of work can be tedious, it does attract a certain personality – someone who is vigilent, accurate, reliable, and not afraid to spend 10 hours a day, or more, alone.
Towers in more isolated locations may require a lookout to spend up to a week at a time inside a small room. However, the four PNF towers are accessible by vehicle or a short hike. Over a six month period, PNF lookout personnel typically work daylight hours unless a fire incident necessitates overnight duties.
Cheyenne Warner, PNF Lead Fire Prevention technician, fills in on the towers when needed and also trains lookouts. Not only do lookouts watch for smoke, they also proved weather observations twice a day, she said.
"Weather is a huge component. We give wind speed and direction, temperature, relative humidity, visibility and precipitation," said Warner, who has been with PNF for about a year.
4 lookout towers in Prescott National Forest
Horsethief Lookout – located outside Crown King.
Mingus Lookout – on the east side of PNF.
Spruce Mountain Lookout – 40-minute drive from Prescott.
Mt. Union Lookout – 7,938 ft elevation in the Bradshaw Mountains.
She has 10 years of experience working fires in Idaho. Prior to that, she taught American Sign Language in a Washington State high school.
"Coming from a small community to a larger one in Prescott, I appreciate Prescott residents have a heightened awareness of fire. It makes my job easier," she said.
THE JOB
Inside a tower, the lookout's eyes are constantly moving, always scanning 360 degrees as they walk around the large, circular Osborne Fire Finder, a dinosaur in the age of electronic devices and digital maps. Most devices were manufactured from 1920 through 1935, and as they age, replacement parts are getting harder to find, Warner said.
When a lookout sights smoke and confirms with binoculars, he or she will line up two sighting apertures on opposite sides of the Osborne's circular rim to align with the smoke. The lookout calibrates the degrees and minutes on the rim that correspond to the map on the inside circle, and calls dispatch.
The job doesn't end there. The lookout continues to monitor the smoke, reporting on its size, color, and character. When the smoke turns dark, it means different fuels are burning, said Brad Sorenson, PNF Fire Prevention technician. The little updates are critical, he said.
The lookout also keeps tabs on other information as it comes in over the radio – the number and names of people involved, for instance.
Twenty minutes can make a big difference in dry, windy conditions. A 50-acre fire can grow exponentially in volatile conditions.
On a clear day, PNF lookouts can see Phoenix and Four Peaks to the south, Kendrick Peak to the north, and even California.
What lookouts said they look for as they "bounce" their eyes from near to far distances is a difference in color, almost like a lighter piece of lint against the forest background; it's usually moving.
Sorenson said he puts on polarized sunglasses and tilts his head sideways. The smoke changes color and "just pops."
LIGHTNING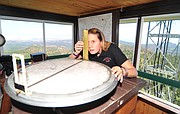 People often ask about the danger of thunderstorms and lightning, Warner said. Towers have a system that involves grounding all the metal inside the two as well as outside. A cable will reroute electricity from the Osborne Fire Finder away from the tower, for instance.
Lightning rods on the top of the structure do the same. The lookout's stool sits on top of four glass insulators. It's the safest place to be.
Lookouts will make a note of the location of a lightning strike, and check on it with binoculars the following day, as it sometimes takes two or three days for flames to appear.
A lookout's worst nightmare is looking out the windows at an approaching thunderstorm and seeing hikers come up the mountain. Another is leaning too far out an open window while cleaning the glass.
When there's a little down time during the day, they can allow a hiker or two to enter the small room and they will explain their work. Other times, the trap door into the room remains securely locked.
"With the current fire danger, most are saying, 'I'm too busy right now,'" Warner said.