Trevor Lewis of BASIS Prescott wins state CAA golf title
Local Sports in Brief

Originally Published: May 16, 2018 6:05 a.m.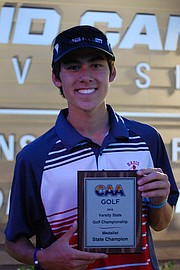 Trevor Lewis fired a 3-under par 68 at the Canyon Athletic Association state golf championships, claiming first overall to win a state individual title May 5 at Grand Canyon University Golf Course in Phoenix. BASIS Prescott finished fourth overall as a team with a 374 stroke score. Boylan Gentry of BASIS Prescott finished second within the team ranks, recording an 87 (+16), while Aja Shaw was third with a 107 (+36). American Leadership Academy won the overall team title with a 337 par score, while BASIS Peoria was second with a 363. Jarrett Fultz of ALA was second overall with a 3-over par 74, while R.J. Colonel of Trinity Christian was third with a 77 (+6). Ken Tokumitsu of Verde Valley School, which is based in the Village of Oak Creek near Sedona, finished fourth overall with an 82 (+11).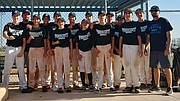 Prescott Rebels take 1st place at Spring Fling tourney
The Prescott Rebels Baseball Club 14U spring team competed at the USSSA Spring Fling II Tournament on April 28 and 29 at Red Mountain Baseball Complex in Mesa. The Rebels finished first overall, going a perfect 5-0 to claim the tournament title. Members of the team include Riley Roskopf, Conner Watson, Peyton Little, Jacob McKelfresh, Tomas Fabian, Oscar Munoz, Tyson Potts, Garrett Reeves, Trevor Stazenski, Ryan Buckle, Josh Miller, Harper Snyder, Cooper Williams, and are coached by Ken Greene and Bert Miller.
PV Police Foundation raises over $10K to benefit department
The second annual Prescott Valley Police Foundation Golf Tournament and Ball Drop on April 22 at Stone Ridge in Prescott raised more than $10,000 for the Prescott Valley Police Department, according to a release. The foundation issued a statement: "We thank all the golfers, individuals and businesses who sponsored 12 police officers to golf, prize sponsors and all the volunteers helping with the work. Thank you all for participating and making this a great event." The winner of the ball drop event, put on by Central Arizona Fire and Medical, won a cash prize of $940.
Back of the Pack running club offering two summer sessions
Prescott's Back of the Pack running club, created to help beginners, is scheduled to offer two summer sessions this year, each lasting about four weeks. The first session runs Saturday, June 9, through Saturday, June 30, with session two beginning Saturday, July 7, and going through Saturday, July 28. The cost of each session is $25, which includes four coach-led group runs and two cross-training sessions each week. For more information, contact Lynn Grieger at 802-688-4511 or email lgriegervt@gmail.com.
Tobin-Glick Memorial Senior Softball Tournament opens Thursday in Prescott
The 27th annual Tobin-Glick Memorial Senior Softball Tournament is set to begin Thursday, May 17, at Pioneer Park in Prescott. Eight teams from Las Vegas, Tucson, Phoenix and the Prescott area are scheduled to play in two divisions of round-robin play. The age 65 group includes the Hitmen Majors from Prescott, Los Vatos AAA from Phoenix and the Sidewinders AAA from Sun City. The Las Vegas Stars Majors are also scheduled to appear. Once pool play is finished, a double-elimination championship bracket begins at 8:30 a.m. Friday. On Saturday, May 19, 12 teams in the age group of 50, 55 and 60 will play a four-division round-robin event with the championship bracket beginning Sunday, May 20. For more information, contact Lani Beach at 440-476-0340 or email him at lanib@mtecom.net.
Anderson, Loeffler compete at Arizona Open Water State Championships
Jill Anderson and Dave Loeffler of Prescott Masters Swim Team competed in the Arizona Open Water State Championships on May 5 in Tempe. The 2,500-meter course, which was located at Tempe Town Lake, hosted the state's best swimmers. Anderson took third overall with a 54:08 time in the women's masters 45-plus division, and first in the ages 60-64 division. Loeffler swam the 5,000-meter course, taking fourth overall in the ages 50-54 division with a 1:18:01 time. The next open water competition is scheduled for Sunday, Aug. 5, at Upper Lake Mary in Flagstaff. Distance events include 1,000, 2,000 and 4,000-meter lengths.
More like this story
SUBMIT FEEDBACK
Click Below to: