Accident seriously injures 19-year-old man
Vehicle strikes highway protection barrels, flies into bridge support pillar
Originally Published: May 16, 2018 12:23 p.m.
Updated as of Thursday, May 17, 2018 6 AM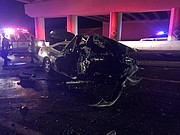 A 19-year-old Dewey man is in critical condition after a severe accident at the intersection of Highway 89A and Granite Dells Parkway late Tuesday night, May 15.
The man, Brock Everist, was driving westbound on Highway 89A at about 10:45 p.m. in a 1999 Toyota sedan when the vehicle left the roadway into the center median and struck the protection barrels in front of the overpass at Granite Dells Parkway, according to a Prescott Police Department (PPD) news release.
After hitting the barrels, the vehicle went airborne and struck a bridge support pillar head on. The vehicle ultimately landed in the eastbound lanes of Highway 89A, where it came to rest under the overpass and caught on fire.
Everist sustained significant injuries and was transported to the Yavapai Regional Medical Center. He was later flown to a Phoenix area hospital, where he remains in critical condition, police said.
"Hospital staff do not expect his injuries to be life threatening," said PPD spokesperson David Fuller.
The roadway was closed while emergency personnel could render aid and members of the PPD Traffic Safety Section could properly investigate the collision. The roadway was reopened at about 2 a.m.
Investigators will continue to study the scene and the evidence to determine the cause and contributing factors of the collision. The PPD is seeking witnesses and asks for anyone with information about this accident to call Officer T. Attenberger at 928-777-1999.
More like this story
SUBMIT FEEDBACK
Click Below to: