Wildland fire along Fain Road claims 54 acres
Wind-driven fire chars grasslands; no structures damaged

By
Max Efrein
|
mefrein
Originally Published: May 15, 2018 6:05 a.m.
Photo Gallery
Fain Road Fire 051418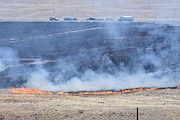 A wildland fire along Fain Road in Prescott Valley charred about 54 acres of grassland before being declared contained around 1 p.m., Monday, May 14.
The initial report of the fire came in shortly after 10:30 a.m. The reporting party told dispatchers there was a roadside fire near the intersection of Fain Road and Lakeshore Drive.
Multiple agencies responded to the incident, including CAFMA, the Prescott Valley Police Department, the Yavapai County Sheriff's Office and the Arizona Department of Forestry and Fire Management. Other agencies that also assisted in some way were the Prescott National Forest, Town of Prescott Valley, Department of Public Safety and Arizona Department of Transportation.
Fortunately, the fire started far enough from any homes that only grassland was burned.
"There were no immediate structures threatened, but if the fire continued moving, the neighborhoods to the west would have been at risk," Chase said.
Bob and Elsy Moon were in one of those neighborhoods. They could see the flames working toward their home.
"As we were watching the fire spread my wife and I were discussing if we need to grab the important stuff in the house and get ready to go (evacuate), but then we really started thinking about it — none of it is that important," Bob said. "It's all replaceable as long as everyone's alright."
"I'm just grateful that we have firefighters who are able to put this thing under control fast," Elsy added. "There are no words to tell them except thank you and stay safe."
Because of the high winds, Chase said firefighter crews remained on the scene for several hours after the fire was extinguished to ensure nothing started back up again.
While it's unclear exactly what started the fire, it is believed to be human caused, Chase said.
"We still don't know for sure whether it was a chain dragging, a cigarette, or what; but it was right off the side of the road," Chase said.
News content director Richard Haddad contributed to this report.
SUBMIT FEEDBACK
Click Below to: