Originally Published: May 13, 2018 6:07 a.m.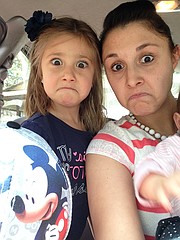 This year, 246 people entered the Mother-Daughter Look-Alike Contest sponsored by The Daily Courier and Raskin's Jewelers.
And the winner is…
Amanda Hermance, 28, and her 5-year-old daughter, Ivy, of Prescott.
"Every single time we go out – everywhere – we get five or six comments every time," Hermance said Friday when she was notified of her first-place win. "It's kind of obnoxious, but I understand how people just get really excited."
The similarities between Amanda and Ivy are not just in appearance, but personality-wise too, Amanda said. Ivy favors Amanda's mother, and another daughter favors her husband, she said. She, herself, is a mix of her own parents, with her hair color from her father, and her face from her mother. She has grandparents and brothers who also are redheads.
Judges said this year's contestants included "a lot of cute ones," and choosing even the top 10 was difficult, said Courier sports editor Brian M. Bergner Jr., who was one of seven judges used in the contest.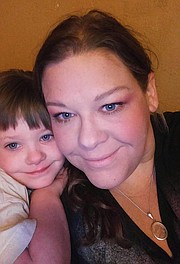 "I pared it down to 10, looked at them again, it was hard. It's always tough, so many looked similar," Bergner said, adding he had Amanda and Ivy as one of his "top" choices from the beginning.
Bergner said he looked at the shape of the faces, and then the eyes. Based on his observations, the less makeup the mother and/or daughter wore, the easier it was to see how much they looked alike.
Judge Sally Webb, Western News & Info executive administrative assistant, also zeroed in on facial features – noses, eyes and mouths. She said, with some entries, she couldn't tell who the mother was and who the daughter was.
She, too, located a first-place winner right off the bat, but found the next four choices difficult. "They kept shifting places," Webb said.
The first-place winners — both Amanda and Ivy — will receive matching diamond pendants set in white gold, a $1,400 value, from Raskin's Jewelers. Greg Raskin described the necklace as a one-third carat diamond set in white gold with a 14-karat white gold chain.
Second-place winners are Kayce Peters, 32, and daughter Reagan Peters, 7, of Chino Valley. They each will receive a $100 gift card from Raskin's Jewelers.
Third prize, two $50 gift cards, goes to Amanda Brown and her daughter, Bayleigh Brown, 5, of Paulden.
Photo Gallery
Mother-Daughter Look-alike photo contest 2018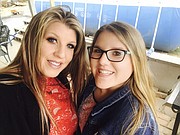 See all Daily Courier's 2018 Mother-Daughter Look-alike photo contest entries
Greg Raskin, owner of Raskin's Jewelers and one of the judges, said he thought some of the entrants looked like twin sisters.
"Probably 30 of them were just so amazingly close. It's a difficult process as a judge. I mean, I'm honored to be asked to do it, but there probably could have been 10 first-place winners," Raskin said.
The first thing he examines in the submissions is the overall look.
Then he starts to analyze the faces more closely, the chins, noses, and especially the eye color and hair color. "Even the way they hold their heads and the way their eyes look," he said.
Hermance said her daughter has been eager to hear the announcement of contest winners. "She keeps asking, 'Did we win yet? Did we win yet?'" Hermance said. "She will be so excited."
Click to see all 2018 Mother-Daughter Look-alike photo contest entries
More like this story