Originally Published: May 13, 2018 6:05 a.m.
Prescott recently awarded some of its finest citizens for their great works for our area. The Man of the Year Award was given to Joe Baynes, and the Woman of the Year Award was given to Karin Ward.
Joe Baynes is the current Director of the Prescott Parks and Recreation. He moved to Prescott in 1984 because it was a great place for his family, and the quality of life here was just what he was looking for. As a softball player, he saw that the Prescott community had a lot to offer residents who loved the outdoors.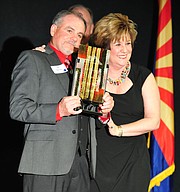 Once they moved here, he not only used the area to enjoy softball for himself, he also volunteered with the Prescott little league, mentoring young players in the community. His involvement in community sports and the local recreation got him a spot on the Parks and Recreation Advisory Board in 2007. And later, when he was given the opportunity to become the director, he took it, eager to make a difference in his community.
He raised his family in in the area, he was involved with the community for years, and he was ready to do his part in making it the best town in the state. And his work has paid off. Not only has he been a major player in helping boost the local economy by bringing in more visitors and outdoorsman to the area, but his hard work has won him Prescott's Man of the Year.
His greatest inspiration in his work has been a saying that his father instilled in him his whole life, "You don't live in a town. You are part of a community." He believes being a leader means investing in a cause. His cause is Prescott, and he hopes to continue to make Prescott the greatest community in the state of Arizona.
Prescott's Woman of the Year, Karin Ward, is the current Superintendent of the Beaver Creek School District. Karin moved to the area in 1990, spending time since then between Chino Valley, Prescott, and Dewey. Coming from Phoenix, she loved the mild seasons, the outdoor recreation, and the small-town community feel the area had to offer.
Growing up as the daughter of a teacher, she had always loved helping students and has always had a deep love of learning. She knew she loved kids, and she became a second-grade teacher. But the education system has been struggling for years, and after only a short time, she was laid off along with others, and turned towards teaching older students and adults.
She enjoyed her time in teaching technology classes for adults, and it was there that she realized the versatility of her teaching abilities.
With the help of her mentors, she turned her attention towards going to graduate school for education leadership, which lead her towards her first administrative job as a Principal in the Humboldt School District. But things were still tough in the world of education, and with more layoffs and cuts, her thirst for knowledge had her asking "why", and she eventually finished further certifications, landing her as the Superintendent in 2004. This is where she has served since.
Having such a high position in the education system has allowed her to make a difference on many levels, including with the little kids she loved working with so much. As part of her drive to change and better the area for both students and teachers, she partnered with the Quality First and the First Things First programs for funding in order to open Beaver Creek's first preschool where she now serves as its Director.
She was humbled in winning the award as Woman of the Year, because even with all the hard work she does for the area, she doesn't spend much time in the lime light. She says she was honored, but most of all, that the award inspired her to keep going, and continue her hard work for the school district.
"I love giving teachers the chance to make a difference in children's lives, whether that is through policy or funding, from the basketball court to a drama production. If they need it, I do what I can to make it happen," she explained.
But she stressed that she didn't do all this alone. She had help from those closest to her, including her parents Carol and Carl Anderson, her husband Richard Ward, and her mentors and friends Dr. Minnich, Terry Harold, and Dr. Roger Short. All these people played roles in supporting and inspiring her leadership education journey, and are the reason that she is where she is today. And she hopes to continue providing the best for her district for a very long time.
Congratulations to this years winners.
More like this story
SUBMIT FEEDBACK
Click Below to:
This Week's Circulars
To view money-saving ads...