Amazing Places: Wolf Creek Falls, a rarity in Prescott

Originally Published: May 13, 2018 6 a.m.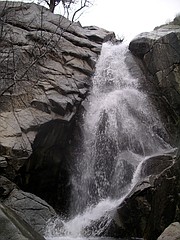 Waterfalls are rare around the Prescott area. You can find a few small waterfalls, more cascades than falls, along local creeks when they are flowing but in our current drought, you have to visit at the right time of year to find this. Sometimes it's at the end of winter when the snow is melting, sometimes during the monsoons from June through August.
The best nearby waterfall is Wolf Creek Falls, which can be spectacular when the flow is heavy. The first photo is of the falls looking up, with water cascading 90 feet down the granite cliff. The second photo shows long icicles at the bottom – taken in January 2009, a cold winter. I've been to the falls many times with my hiking group, as well as with family and friends. It's definitely worth a visit, and isn't a long hike – about half a mile one-way. There's no official forest trail that takes you all the way to the falls – the last part of the social trail is not in good shape. For detailed directions, you'll have to contact me via the Courier's senior editor, Tim Wiederaenders (twieds@prescottaz.com). I believe there should be an official trail, kept in good shape, to take you safely to the falls. As well as my directions, I'll share with you the names of some organizations you can contact to request trail improvements.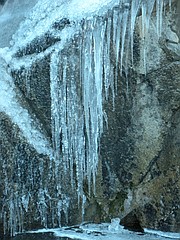 We usually go in January through March when the flow is best, though it's still a sight when dry. You may ask, why didn't I describe this Amazing Place a few months ago? I probably should have, but I was telling you about other stuff. One good thing if you go now, Wolf Creek will not be hard to cross and the ground won't be muddy. Then, when you go back at the beginning of 2019, you'll know the way and won't get lost.
This article is shorter than usual because it doesn't include directions, so I've snuck in a third photo. If you own my booklet "Guide to the Prescott Circle Trail" you may recognize this snowy picture from its front cover – taken along a different part of the official trail to the falls. The Prescott Circle Trail is very popular with locals and visitors alike – my Guide contains eleven detailed maps and includes points-of-interest and history. You can purchase it from the many outdoor stores downtown, including the Chamber of Commerce and the main bookstore.
Nigel Reynolds was born in England and has lived in Arizona for almost 40 years, and in Prescott for over 20 years. "Exploring is in my blood," he says.
To see my articles online with the photos in color, go to "dcourier.com" and enter "Amazing Places" in the search-bar at top right.
More like this story
SUBMIT FEEDBACK
Click Below to:
This Week's Circulars
To view money-saving ads...