Church News: May 12, 2018
Originally Published: May 12, 2018 6:02 a.m.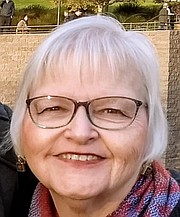 Prescott Unitarian Universalist Fellowship will celebrate Mother's Day by presenting "Biblical Matriarchs from a Feminist Perspective" at their 11 a.m. service, at 945 Rancho Vista Road, Prescott (top of Copper Basin Road). The guest speaker will be Rev. Becky Gunn. Jonathan Best is the musician.
Based on an OLLI class about Women of the Hebrew Bible, we will discuss the archetypes of mothers as generated through Hebrew scripture. Often, we view mothers culturally and historically through the lens of sacred writings. Let us look at some of the biblical stories and how they were written from a patriarchal perspective and see how we might retell the stories from a woman's point of view.
Rev. Becky Gunn is a retired Unitarian Universalist minister, who served congregations in Maine, Colorado and New York. Prior to ministry Becky worked in high tech management in Silicon Valley in California. She has a masters of divinity, an MBA and a bachelors in political science and history. She has lived in Prescott for almost three years and is deeply involved in OLLI and AAUW.
From 9:30 a.m. to 12:30 p.m. Saturday, May 12, Dr. Thomas Kindell will speak at the Hillside Community Church, 937 Ruth St., Prescott. He will give two talks on the age of the universe and design that proves that evolution did not happen. Dr. Kindell is one of a small number of full-time creation speakers, and has a very polished delivery and the best speaking voice you have ever heard. Quiz and give-aways!
The Town Choir of the Phoenix Boys Choir will perform at 3 p.m. Saturday, May 12, at St. Luke's Episcopal Church, 2000 Shepherds Lane, Prescott. The Town Choir presents sacred music, classic American melodies and even rock standards. The concert is free and open to the public. Donations will be accepted.
The Prescott Seventh-Day Adventist Church will be hosting a Hawaiian-themed event at 4 p.m. May 20, for women and sponsored by Women's Ministry.
It's time to put on that Hawaiian dress, or blouse and enjoy good food, inspirational music, fun and Sacred Hula. Lynn Ortel will be the guest speaker. Lynn has a Bachelor of Science in Psychology and a Master of Arts in Counseling and is a Licensed Professional Clinical Counselor. She has served as Director of Communications, Family Ministry, and Children's Ministry but most of all she loves Jesus! Lynn's keen sense of humor and her winning personality shine bright when she speaks. The cost for this event including Hawaiian food is $7 per person. Reservations are required by May 13. Call or text 702-378-2358.
All are welcome to join with Rabbi Adele of Beit Torah Jewish Congregation (www.onetorah.org ) for Mother's Day this year which is also for celebrating Jerusalem Day; for a candle lit welcoming of the new Month of Rosh Chodesh Sivan on May 14 eve; and for the Festival of Weeks [Shavuot] study starting 8 p.m. May 19 and going through May 21 when there will be a memorial service recalling the people we loved who passed. Please call for details and directions: 928-237-0390, 928-227-0582 or email ansheitorah@cableone.net.

St. Luke's Native American Ministry 2nd Quarterly Public Presentation Featuring Fil (Yoimasa) Kewanyama: Hopi who becomes U.S. Army Veteran and Artist Fil Kewanyama is an award-winning Hopi artist and a U.S. Army veteran. He grew up on the Hopi reservation where he assimilated a history and a culture of art that never left him. "As kids growing up on Hopi land I think all of us grew up learning because it is connected to our ceremonial way of life. We learn colors, images and meanings," Mr. Kewanyama says, "What inspires me the most is who I am as a Hopi, our ceremonial way of life and the spirituality."
His military service didn't allow much time for his art, but he was still relatively young at retirement and he re-immersed himself into the culture of "The People of Peace"— the ceremonies, the recognition of sanctity of water and all nature that surrounds and sustains us … and the art.
Through his art, Fil hopes to bring understanding between the Hopi and the non-Hopi. From 11 a.m. to 12:30 p.m., Saturday, May 19, he will present his unique story with a one-hour talk, followed by a 30-minute dialogue with the audience. Selected pieces of his work will be on display. The public is invited and there is no admission charge.
The program is presented by the Native American Ministry committee at St. Luke's Episcopal Church, 2000 Shepherd's Lane, Prescott. Go north on Highway 89, pass the airport and turn right onto Ruger Road. Our mission is building bridges of understanding through learning, caring, respecting and interacting.
Shavuot: Receiving the Torah Law during the Biblical Festival of Weeks. On the eve of May 19 this year, Jews will start the two day celebration of the third biblical pilgrimage festival of Shavuot. Shavuot, the Feast of Weeks [seven weeks after Passover], is also known as the Festival of Reaping, the Day of First Fruits, and the Festival of Receiving the Torah at Mt. Sinai. In biblical Israel, Shavuot marked the end of the seven week grain harvest season of barley during Passover and wheat just before Shavuot. Decorating with lots of greenery became a most popular tradition for this holiday along with a festive parade to the Temple to bring the first fruits to the Priests. Today children often parade with such gifts to the Israeli Prime Minister. Eating of dairy dishes, wheat products, and other first fruits is always enjoyed.
On the more serious side, an all-night study of Torah topics such as ethical issues is undertaken by the folk who can. A favorite discussion topic is the Book of Ruth, a convert who chose to stay with her Jewish mother-in-law and the people of Israel after her Jewish husband died. This highly valued book teaches that we must embrace good people and get along with all even if they do not come from a background like ours. Every neighbor is to be valued. To learn more about Shavuot and its traditions, all are welcome to contact Beit Torah at 928-237-0390 or 928-227-0582 or write ansheitorah@cableone.net .
Shepherd of the Hills Lutheran Church is pleased and proud to announce the calling of a new pastor. Reverend Adam Michael Burke, formerly of Mt. Hope Lutheran Church in Boulder, CO, where he served as pastor for six years, his wife Kayla and their three children, have come to join us here in Prescott. Both Pastor Burke and Mrs. Burke are natives of Phoenix, AZ so this also serves as a homecoming for them.
Pastor Burke's installation ceremony will take place at 3 p.m. Saturday, May 19, at Shepherd of the Hills with a dinner to follow.
In addition to the installation of Pastor Burke at this ceremony, we will also be observing the retirement of Reverend Dale Skurla, our current pastor, who has served us with loving care since October of 2010. Pastor Skurla and his wife Donna will be staying on as members of the community. When they return from a well-deserved motor trip, a special retirement party will be held in September to thank them both for their devoted service and friendship to us.
Russ Miller is the only full- time creation science speaker in Arizona and is now in his 18th year. His web site is: www.creationministries.org.
As well as speaking at churches, camps and conferences, Russ Miller shares this information on all day creation tours of the Grand Canyon, where he shows proof that the global flood created the Grand Canyon in only days, and not the millions of years, as we are told. He shows where the strata layers that have been deposited by the global flood meets the creation rock, or where judgment meets creation as he likes to say.
This trip is the best way to learn creation science and be able to defend your faith against the religion of evolution as taught in government schools. There is a trip leaving from Prescott at 8 a.m. and returning at 7 p.m. on May 26, and another one on Sept. 8. To get more info on these trips or to sign up, contact David McNabb at 928-771-1218 or mcnabbprescott@aol.com.
Grace Baptist Church will present "One Nation…Under God" a musically based, patriotic program in two performances over Memorial Day weekend. Admission is free and everyone is invited to attend at 7 p.m. Saturday, May 26 or 4 p.m. Sunday, May 27. A refreshment reception will follow each performance.
The program will feature choral singing, solos, quartets, poetry and stirring, poignant imagery as well as audience sing-alongs to "The Star Spangled Banner" and "America the Beautiful." Come join your neighbors as we celebrate our great country and God's provision for America.
Grace Baptist Church is located at 2010 S. Highway 89 in Chino Valley. Call 928-636-2949 or go to www.cvgace.com for more information.
Creation Weekend will be May 26 and 27 at the Alliance Bible Church, 2601 W. Iron Springs Road, Prescott. The speaker will be Dr. Jobe Martin, who has written, "The evolution of a Creationist." He will speak 2 to 5 p.m. on Saturday and 9:30 and 10:30 a.m. on Sunday. All the messages will be different. For information, call 928-776-1549.
Spring Salebration, from 7 a.m. to 2 p.m., Friday, June 1 and Saturday, June 2, at Chino Valley United Methodist Church, 735 E. Road 1 South. There will be clothing and accessories, jewelry, household items, electronics, books, collectibles, home décor, appliances, toys, tools, garden supplies, furniture and more—including baked goods. A hot dog lunch with all the fixings will be at 11 a.m. Cash and credit cards will be accepted (no checks). For information, or to donate items, please contact the Church 8 a.m. to noon, Monday through Thursday or call 928-636-2969.
American Lutheran Church is now accepting registration for this year's Vacation Bible School program, "Shipwrecked." Classes for kids age 3 (toilet-trained) through students entering grade 5 will run from 9 a.m. to noon Monday, June 4 through Friday, June 8. Cost per child is only $25; T-shirts are available for $10; CDs of all the fun music are $6. Kids at Shipwrecked VBS will join a mission effort to provide for seeds for families in Haiti to grow food. For more information, or for registration forms, visit the church office, or go online at www.americanlutheran.net/vbs/.

"Let Go - Believe" is the theme for Vacation Bible School from 6:30 to 8:15 p.m. June 4-8, at Trinity Lutheran Church, 3950 N Valorie Drive in Prescott Valley.
Registration is being taken at the church for children ages 4 through 4th grade. All are welcome! Phone 928-772-8845.
More like this story
SUBMIT FEEDBACK
Click Below to: