CAFMA responds to fires in Paulden, Dewey
Originally Published: May 12, 2018 5:56 a.m.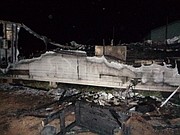 The Central Arizona Fire and Medical Authority (CAFMA) responded to two fires in Paulden and Dewey at about 6:30 p.m. Thursday, May 10 and at about 4 a.m. Friday, May 11, according to a news release from CAFMA Fire Marshal Rick Chase.
Crews arrived to the 1200 block of Brand Iron Road in Paulden to find a 400 sqaure foot semi-trailer converted to a workshop, fully involved in fire. They quickly put it out, preventing the fire from spreading to the nearby residence. Though the occupants were not at home during the fire, they did return when fire personnel were on scene. The cause of the fire could not be immediately determined due to the amount of damage to the trailer and interior contents.
In Dewey, crews responded to the 10000 block of Jones Place in the Upper Blue Hills to find a fire on the wooden deck and stairs of the residence. Residents driving by stopped to assist and a garden hose and fire extinguisher were used to put the fire out; and it was prevented from spreading to the home. Investigators are working with the Yavapai County Sheriff's Office to determine the cause.
More like this story
SUBMIT FEEDBACK
Click Below to: