Viewpoint Fire destroys 2 homes, chars 2,500-plus acres
At 6:30 p.m. Friday, Poquito Valley, Antelope Meadows residents were allowed back in homes
Originally Published: May 11, 2018 6:42 p.m.
Updated as of Friday, May 11, 2018 7:11 PM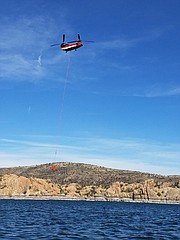 EDITOR'S NOTE: This story has been updated from an earlier version. Visit dCourier.com for more updates as the story progresses.
A wildland fire just north of Prescott Valley forced the communities of Poquito Valley and Antelope Meadows to be evacuated early Friday afternoon, but as of 6:30 p.m., residents in those areas were being allowed back into their homes.
Two homes are confirmed destroyed due to the blaze, along with possibly three to four more, all in the Poquito Valley area, according to the Arizona Department of Forestry and Fire Management. In all, 10 to 12 outbuildings have been lost in the fire.
As of 7 p.m. Friday night, state fire officials said the forward progression of the Viewpoint Fire had been halted.
"Crews will remain on the fire overnight and into tomorrow watching for hotspots and patrolling line," the organization said via its social media account.
More than 400 structures were threatened as evacuations took place for the Viewpoint Fire, which started early Friday morning and charred more than 2,500 acres due to dry fuels and gusty winds.
More than 200 fire personnel are being used to contain the blaze.
CodeRED
A CodeRED evacuation message was sent out to residents in the Viewpoint, Poquito Valley and Antelope Meadows neighborhoods Friday as the fire, driven by strong winds, ripped through the area.
Fire crews from Central Arizona Fire, Prescott Fire, and the U.S. Forest Service are fighting the blaze, which appears to have started near Highway 89A, northwest of Viewpoint, said Rick Chase, spokesman for Central Arizona Fire.
Incident commander Cougan Carothers requested a helicopter and air tankers from the U.S. Forest Service.
A vehicle crash on Highway 89A near Viewpoint Road, during the fire, at about 11:30 a.m., required a Prescott Fire engine to respond from station 72, on Iron Springs Road, several miles away.
A radio dispatch reported that some residents were calling 911 to say the fire was approaching their homes.
Photo Gallery
Viewpoint Fire 051118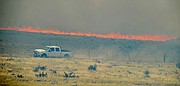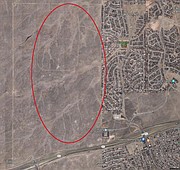 TIMELINE
By noon, Chase said, the fire was burning toward the Poquito Valley area.
Carothers reported by radio that the fire had two distinct heads and was moving north at 10 to 15 miles an hour.
He gave a rough estimate of the fire's size as "a few thousand acres" at 12:15 p.m.
At 12:45 p.m., PVPD Sgt. Jason Kaufman said the Viewpoint subdivision north of Highway 89A, west of Viewpoint Drive and Poquito Valley north of Acre Way were under evacuation orders.
A shelter for evacuees was set up at the Yavapai College campus in Prescott. The CodeRED alert said that assistance was available at 928-771-3260, the number for the Sheriff's Office.
Thirty homes were reportedly threatened by the fire at about 12:45 p.m.
By 12:54 p.m., the Prescott Hotshots had been assigned to the fire and a task force was on the way from Camp Verde as well.
The concern was for structures to the north of the fire, which appeared to be in imminent danger.
By 2 p.m., officials were beginning to move to prepare southeastern parts of Chino Valley for evacuation. Evacuations were implemented for Antelope Meadows, and officials released the Viewpoint area from evacuation orders.
Fire officials asked Sheriff's deputies to close Perkinsville Road at 2:15 p.m. The path of the fire was estimated to be eight miles long.
SHELTERS
Shelters were set up at Yavapai College building No. 2, located at 1100 E. Sheldon St. Prescott. A small animal shelter is located at Yavapai College building No. 4, room 421, and 423, at 11 E. Sheldon St. in Prescott. The large animal shelter was located at Coors Event Center at 10501 N. Hwy. 89A in Prescott Valley.
The cause of the fire is still under investigation.
Related Stories
More like this story
SUBMIT FEEDBACK
Click Below to:
This Week's Circulars
To view money-saving ads...