Three days, nights of music, art, culture at FORM Festival

Originally Published: May 11, 2018 6:01 a.m.
The FORM Festival is returning to the desert eco-city of Arcosanti for three days and nights of art, music and culture Friday through Saturday, May 11-13.
A retreat and festival where participants experience live music, talks and panels, workshops, experiential art, screenings, new technologies, outdoor and wellness activities and more, FORM was created by the band Hundred Waters and co-founders who performed at major music festivals globally, according to the website www.experienceform.com.
"They felt a deeper sense of personal connection, creative inspiration, community and collaboration was possible. Soon after visiting the experimental town of Arcosanti while touring in 2013, it became home to the first FORM experience," the site states. "FORM's ongoing mission is to inspire progress through creative and inclusive community experiences."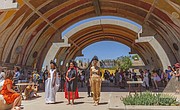 This year, the FORM festival will see music from numerous artists including Skrillex, Chance the Rapper, Charli XCX, Fleet Foxes, Courtney Barnett and Beach House. It the panels, talks and storytelling sessions will also feature Saul Williams, Dream Machine, Parley for the Oceans, the ACLU, the ECOSA Institute, and Fin among others.
Registration is $350 per participant and $390 per camping participant with $20 for parking. Participants can register at www.experienceform.com
Arcosanti, located at 13555 S. Cross L Road in Mayer, begain in 19780s as a prototype to physically test architect Paolo Soleri's urban planning concept, according to arcosanti.org. Soleri and his wife established the Cosanti Foundation in 1965 and the Arcosanti builders who went through the workshop program made what is currently Arcosanti possible.
"The term Cosanti comes from two Italian words "Cosa" and "Anti" and means literally "before things," the site states. "Cosanti, a non-profit educational institution, focuses on ideas about urban design."
For more information about the festival, visit www.experienceform.com.
Attempts to reach out to the festival's organizers was unsuccessful.
By Jason Wheeler, follow him on Twitter @PrescottWheels, reach him at 928-445-3333 ext. 2037.
More like this story
SUBMIT FEEDBACK
Click Below to:
This Week's Circulars
To view money-saving ads...