Now showing: May 11, 2018
Originally Published: May 11, 2018 6 a.m.
Movies playing at Harkins Theatres, 7202 Pav Way, Prescott Valley (Highway 69 between Glassford Hill and Lake Valley roads). 928-775-7444; www.harkins.com.
(NEW) LIFE OF THE PARTY – When her husband suddenly dumps her, longtime and dedicated housewife Deanna turns regret into reset by going back to college. Unfortunately, Deanna winds up at the same school as her less-than-thrilled daughter. Plunging headlong into the campus experience, the outspoken new student soon begins a journey of self-discovery while fully embracing all of the fun, freedom and frat boys that she can handle. Stars Melissa McCarthy, Gillian Jacobs, and Maya Rudolph. Rated PG-13 – comedy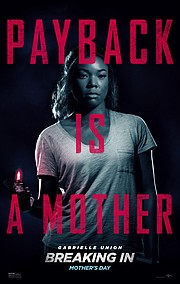 (NEW) BREAKING IN – Shaun Russell takes her son and daughter on a weekend getaway to her late father's secluded, high-tech vacation home in the countryside. The family soon gets an unwelcome surprise when four men break into the house to find hidden money. After managing to escape, Shaun must now figure out a way to turn the tables on the desperate thieves and save her captive children. Stars Gabrielle Union, Ajiona Alexus, and Billy Burke. Rated PG-13 – thriller
Also showing:
AVENGERS: INFINITY WAR - Iron Man, Thor, the Hulk and the rest of the Avengers unite to battle their most powerful enemy yet -- the evil Thanos. On a mission to collect all six Infinity Stones, Thanos plans to use the artifacts to inflict his twisted will on reality. The fate of the planet and existence itself has never been more uncertain as everything the Avengers have fought for has led up to this moment. Stars Robert Downey Jr., Chris Pratt, and Chris Evans. Rated PG-13 – fantasy, science fiction
A QUIET PLACE – This movie's summary is simple: If they hear you, they hunt you. Stars John Krasinski, Emily Blunt, and Millcent Simmonds. Rated PG-13 – drama, thriller
I FEEL PRETTY - A woman who struggles with feelings of insecurity and inadequacy on a daily basis wakes from a fall believing she is suddenly the most beautiful and capable woman on the planet. With this newfound confidence, she is empowered to live her life fearlessly and flawlessly, but what will happen when she realizes her appearance never changed? Stars Amy Schumer, Emily Ratajkowski, and Michelle Williams. Rated PG-13 – comedy
RAMPAGE - Dwayne Johnson stars as primatologist Davis Okoye, a man who keeps people at a distance but shares an unshakable bond with George, the extraordinarily intelligent, incredibly rare albino silverback gorilla who has been in his care since he rescued the young orphan from poachers. But a rogue genetic experiment gone awry mutates this gentle ape into a raging creature of enormous size. To make matters worse, it's soon discovered there are other similarly altered animals. As these newly created alpha predators tear across North America, destroying everything in their path, Okoye teams with discredited geneticist Kate Caldwell (Naomie Harris) to secure an antidote, fighting his way through an ever-changing battlefield, not only to halt a global catastrophe but to save the fearsome creature that was once his friend. Also stars Jeffrey Dean Morgan and Breanne Hill. Rated PG-13 – fantasy, science
OVERBOARD – Kate is a single, working-class mother of three who's hired to clean a luxury yacht that belongs to Leonardo -- a selfish, spoiled and wealthy Mexican playboy. After unjustly firing Kate, Leonardo falls off the boat and wakes up with no memory of who he is. To get payback, Kate shows up at the hospital and convinces the confused amnesiac that they're married. As Leonardo tries to get used to manual labor and his new family, Kate starts to wonder how long she can keep fooling her fake husband. Stars Eugenio Derbez, Anna Faris, and Eva Longoria. Rated PG-13 – romance, drama
TULLY – Marlo, a mother of three, is gifted a night nanny by her brother. Hesitant to the extravagance at first, Marlo comes to form a unique bond with the thoughtful, surprising, and sometimes challenging young nanny named Tully. Stars Charlize Theron, Mackenzie Davis, and Ron Livingston. Rated R – drama, comedy
BAD SAMARITAN - A young valet breaks into a man's home and discovers a terrified woman who's chained and gagged. After notifying the police, he soon becomes the target of the psychopath's wrath as he tries to rescue the victim that he left behind. Stars David Tennant, Robert Sheehan, and Carlito Olivero. Rated R – drama, thriller
SUPER TROOPERS 2 - Fired for their previous shenanigans, former Vermont Highway Patrol officers Thorny, Farva, Rabbit, Foster and Mac get a shot at redemption from Capt. O'Hagan and Gov. Jessan. The wacky quintet must provide law enforcement for a French Canadian town that's transitioning to U.S. sovereignty. Their unconventional methods soon get put to the test when they encounter a smarmy mayor, mischievous Mounties, a smuggling ring and a 1,300-pound bear. Stars Jay Chandrasekhar, Steve Lemme, and Kevin Heffernan. Rated R – mystery, crime
A WRINKLE IN TIME - Meg Murry and her little brother, Charles Wallace, have been without their scientist father, Mr. Murry, for five years, ever since he discovered a new planet and used the concept known as a tesseract to travel there. Joined by Meg's classmate Calvin O'Keefe and guided by the three mysterious astral travelers known as Mrs. Whatsit, Mrs. Who and Mrs. Which, the children brave a dangerous journey to a planet that possesses all of the evil in the universe. Stars Oprah Winfrey, Reese Witherspoon, and Chris Pine. Rated PG – fantasy, science fiction
More like this story
SUBMIT FEEDBACK
Click Below to:
This Week's Circulars
To view money-saving ads...