Lots of new vendors at Art & Wine Festival

Originally Published: May 11, 2018 6:04 a.m.
Though the Mountain Artists Guild's 32nd annual Art & Wine Festival isn't necessarily bigger this year, there's plenty of new vendors showing up, organizers say.
On one hand the City of Prescott permanently took away 30 spaces and are resting 10-12 of them on a rotating basis each year so the grass gets a year off, but there are dozens of vendors coming out who are either brand new or haven't been to the festival in at least a year, said organizer Janis Keeling. Of the new vendors there are two young artists from the Navajo nation, Keeling said. They haven't shown in Prescott before, she said.
"Neither one of them have shown at the Indian Art Market at Sharlot Hall," Keeling said. "This will be the first time Prescott's seeing their art."
Held Saturday and Sunday, May 12-13 at courthouse plaza, this festival along with the Arts & Crafts Festival in August are how the guild makes the money it needs to continue operating, she said.
One aspect to this year's festival that Keeling said she is excited about is not only the new vendors but how some longtime vendors are going to be in different spots. Many times, people will note they see the same person in the same spot every year and nothing changes, she said. Though some vendors say their customers know their spots, there will be maps with vendor names and booth numbers to make sure everyone can easily be found, Keeling said. That information can be obtained at the band stand.
As a real estate agent, Keeling said the Art & Wine Festival is the kind of thing that attracts a number of visitors from out of the area with many of them eventually deciding they want to live in Prescott.
"I really think it benefits the local area," she said. "I think we are benefiting Prescott as a whole by making it a fun place to come and visit and maybe move to one of these days."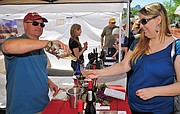 The festival is free and open to the public.
For more information about the Mountain Artists Guild Art & Wine Festival or the guild itself, visit www.mountainartistsguild.org.
Mountain Artists Guild isn't the only organization holding a festival over Mother's Day weekend. Granite Creek Vineyards has its 14th annual Mother's Day Wine and Art Festival Saturday and Sunday as well at the Vineyards, 2515 N. Road 1 E. in Chino Valley. With award winning wines, including a new release of Granite Creek's 2013 Zinfandel, local artists, free face painting, live music and a lunch buffet, admission is $14.
For more information, visit www.granitecreekvineyards.com.
By Jason Wheeler, follow him on Twitter @PrescottWheels, reach him at 928-445-3333 ext. 2037.
More like this story
SUBMIT FEEDBACK
Click Below to:
This Week's Circulars
To view money-saving ads...