Esteban returns for Mother's Day show

Originally Published: May 11, 2018 6:03 a.m.
Esteban is coming back to Prescott for another Mother's Day show at the Elks Theatre and Performing Arts Center.
Stephen Paul (the titular Esteban) said the show will feature some love songs he's never played before. Mother's Day is all about family, love, being a mom and those ramifications and the one thing that cuts through everything is music, he said. So many people afterwards will come up to him and say they've seen music shows all over the world, but the music he plays touched their hearts like no other, Paul said.
"I'm a very lucky guy," he said. "I play with my beautiful daughter and everybody just feels the love, and that's what life is about, is giving that love to other people."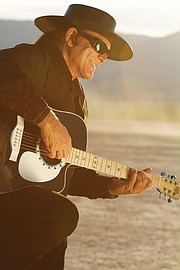 The Esteban Mother's Day Concert is at 3 p.m. Sunday, May 13 at the Elks Theatre and Performing Arts Center, 117 E. Gurley St. Tickets are $29 for adults, $25 for seniors and $39 for opera box seats and can be purchased online at www.prescottelkstheater.com, by calling 928-777-1370 or at the door one hour prior to the performance.
Paul noted he plays his guitar to make people feel good and stated there's no other reason to be alive except to take care of people and make them feel good.
"That is the essence of my whole life," he said. "I play this music to help people feel something they haven't felt in a long time, to rekindle that love."
At one point, Paul said he was on television and had pins made resembling guitars and hearts, which he called the symbols of his life. He's got a few left and are going to give them to any mother in the audience, he said. It's not something he does anywhere else and is only for Prescott, Paul said.
Though he's got some love songs he's never played before there are also songs he always plays, he said. One is a cover of Elvis Presley's "Can't Help Falling in Love" which Paul said he has a story about that comes from when he headline in what used to be the Las Vegas Hilton. He said he felt Presley's soul roaming around the music hall and every night he'd say he feels its presence and ask it to sit on his knee and help him play the song. He does it in Prescott as well, Paul said.
"I always say 'Elvis, you're still in Vegas, but Prescott's a lot better than Vegas so why don't you come sit on my knee tonight and we will play 'I Can't Help Falling in Love' with you for all the people in Prescott. The hair stand up on everybody's necks when Elvis' little soul comes to visit," he said. "It sounds crazy but it really happens. I believe it."
By Jason Wheeler, follow him on Twitter @PrescottWheels, reach him at 928-445-3333 ext. 2037.
More like this story
SUBMIT FEEDBACK
Click Below to:
This Week's Circulars
To view money-saving ads...