Fires threaten Prescott, PV and county
Prescott Valley residential home complete loss

By
Max Efrein
|
mefrein
Originally Published: May 10, 2018 6:06 a.m.
Prescott Valley residential fire
By the time firefighters were notified and responded to a home fire on Las Flores Drive in Prescott Valley Tuesday night, May 8, the home was already 75 percent involved in flame.
The call came out around 9 p.m. A 1,300 square foot home and an adjacent shed in the middle of a residential area were ablaze, said Central Arizona Fire and Medical Authority (CAFMA) Fire Marshall Rick Chase.
Photo Gallery
Las Flores Avenue Fire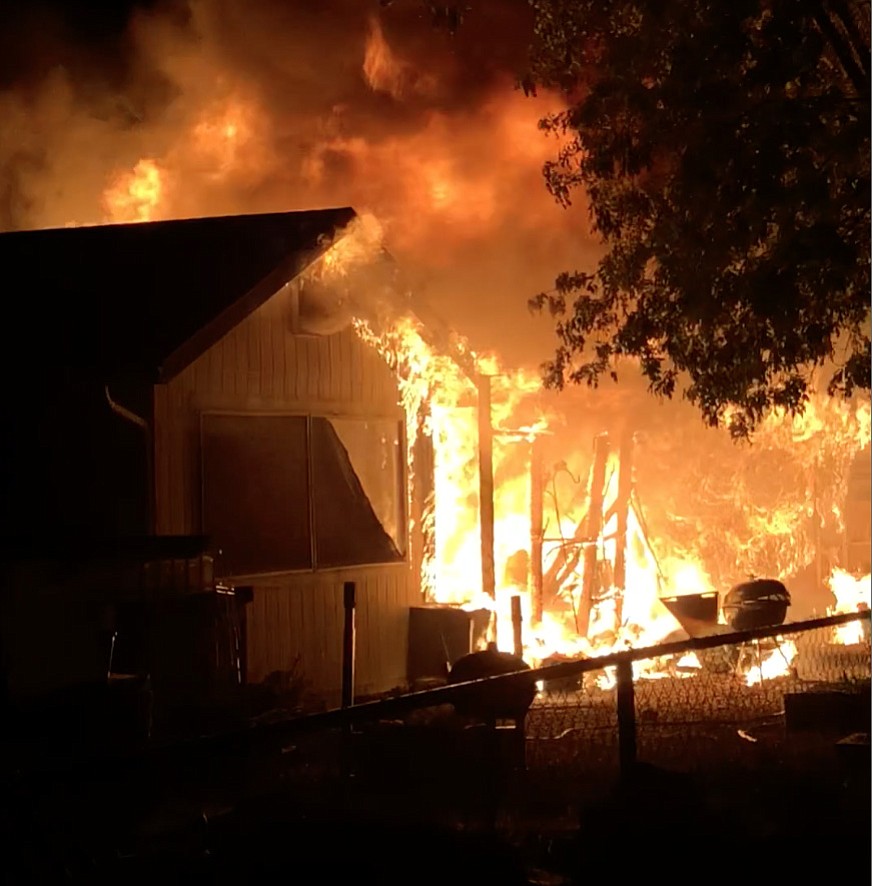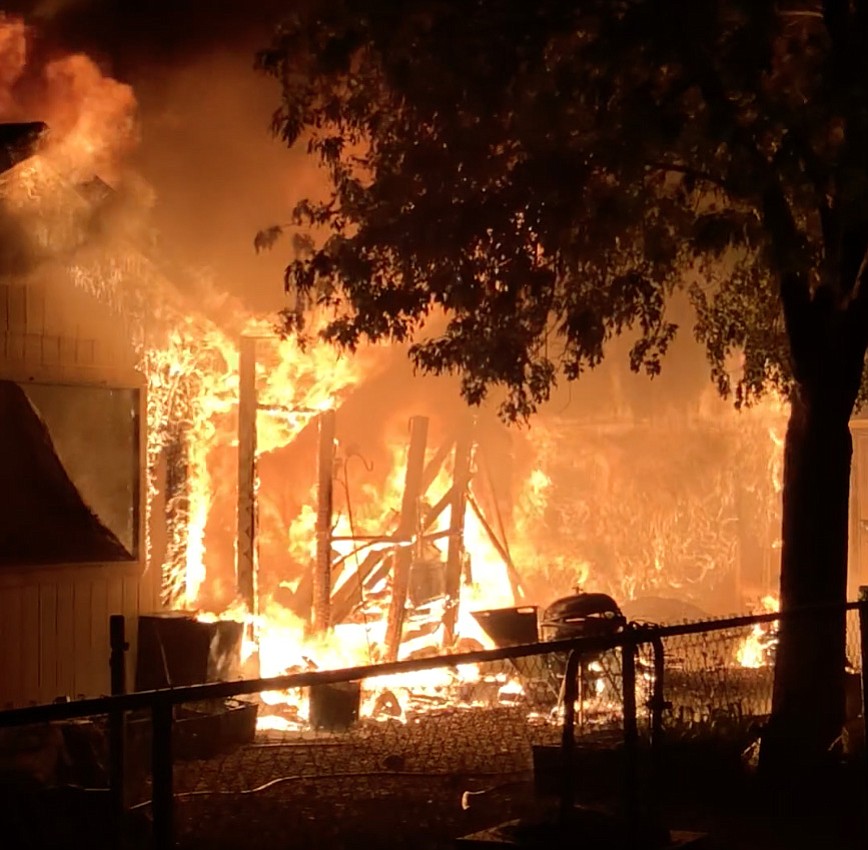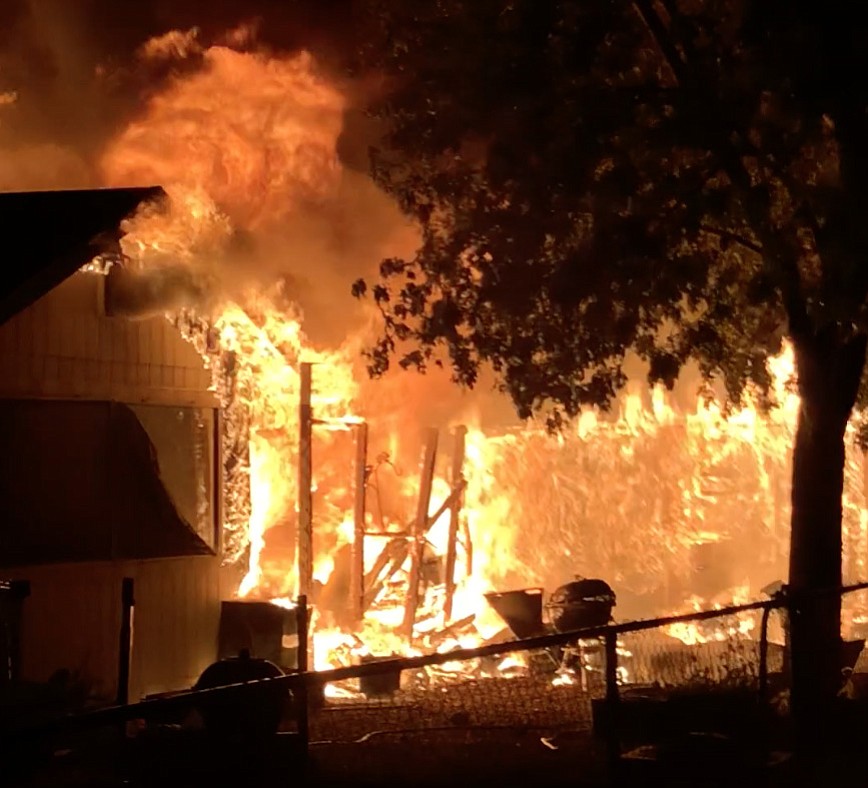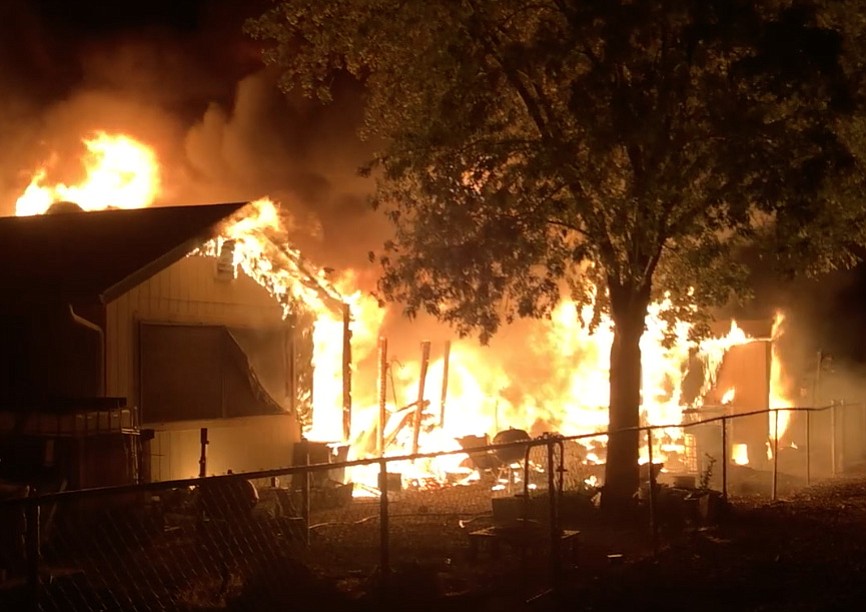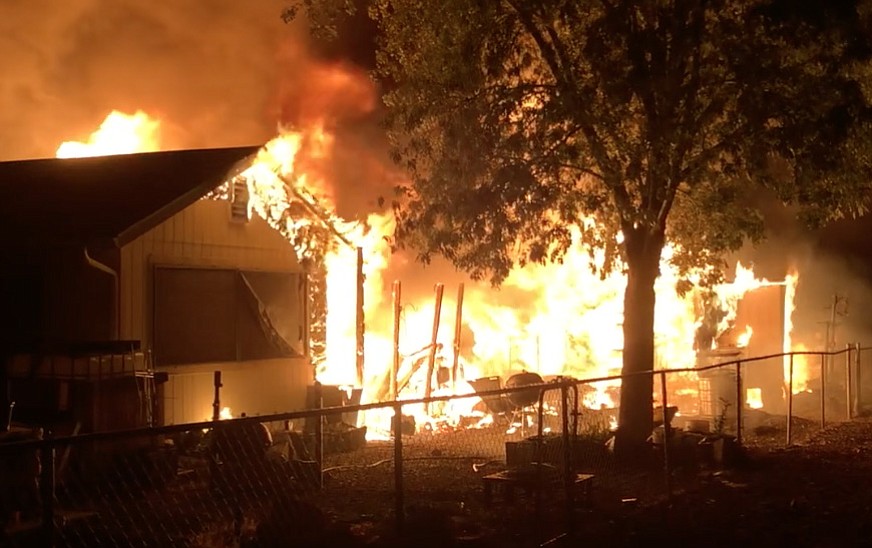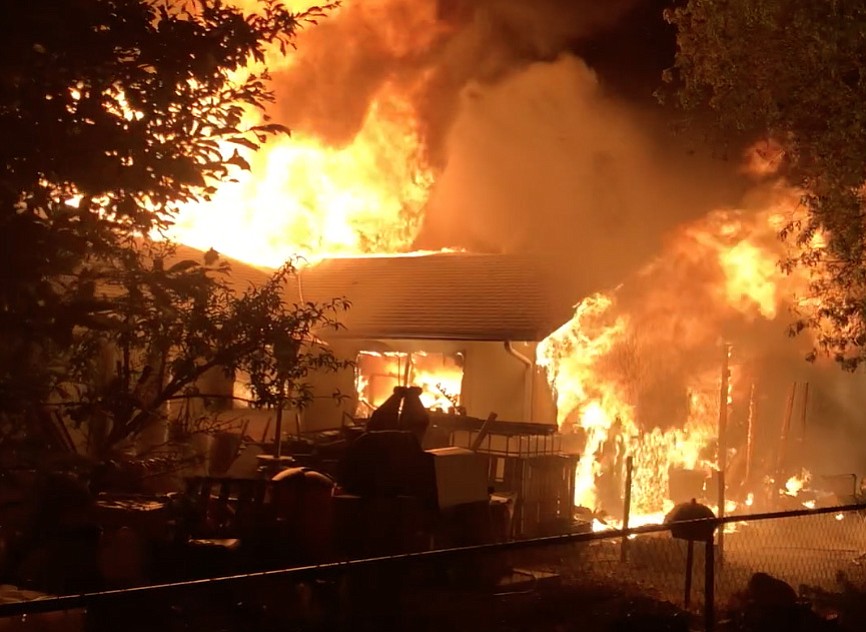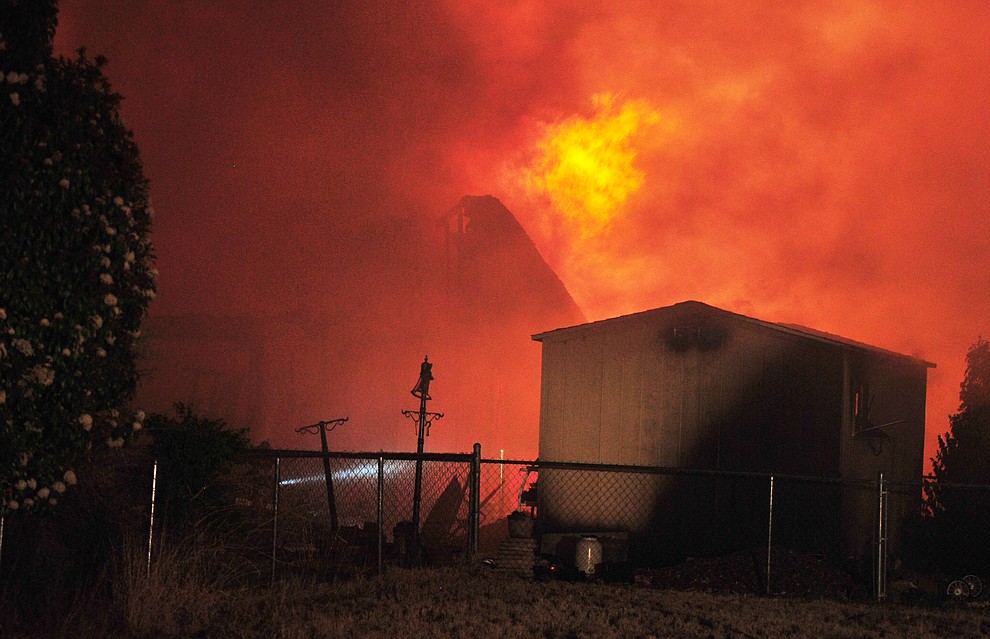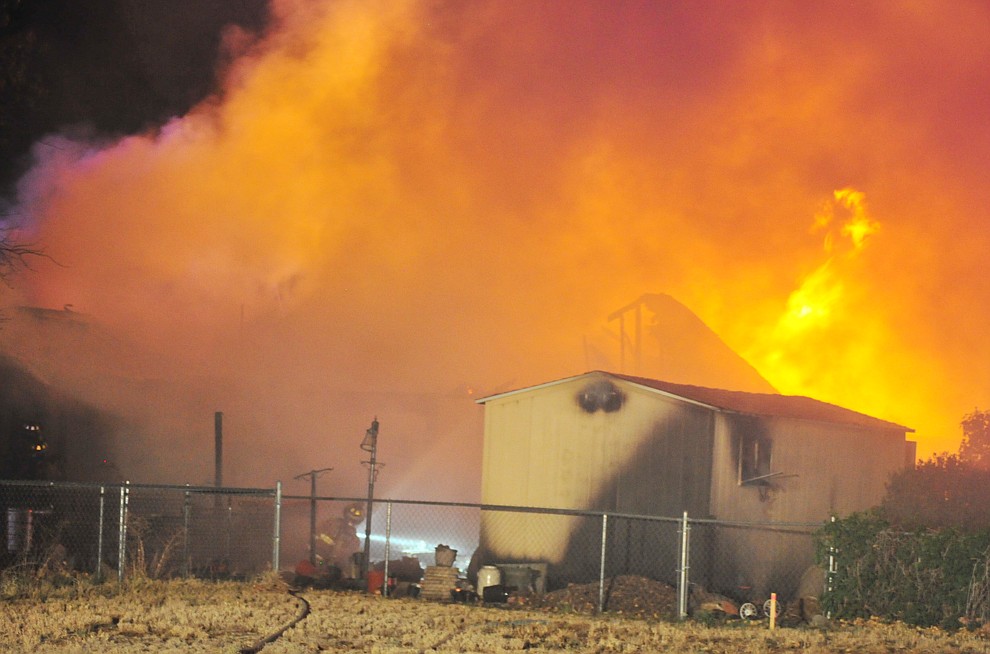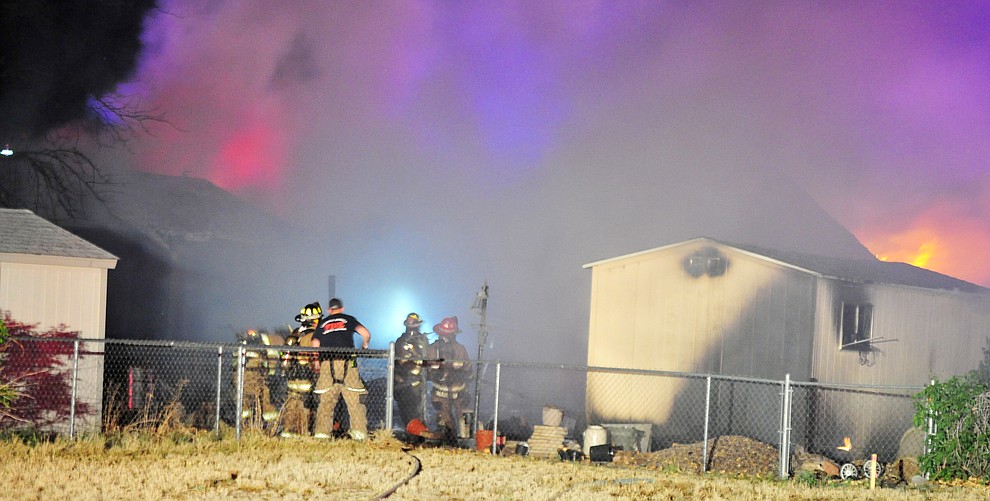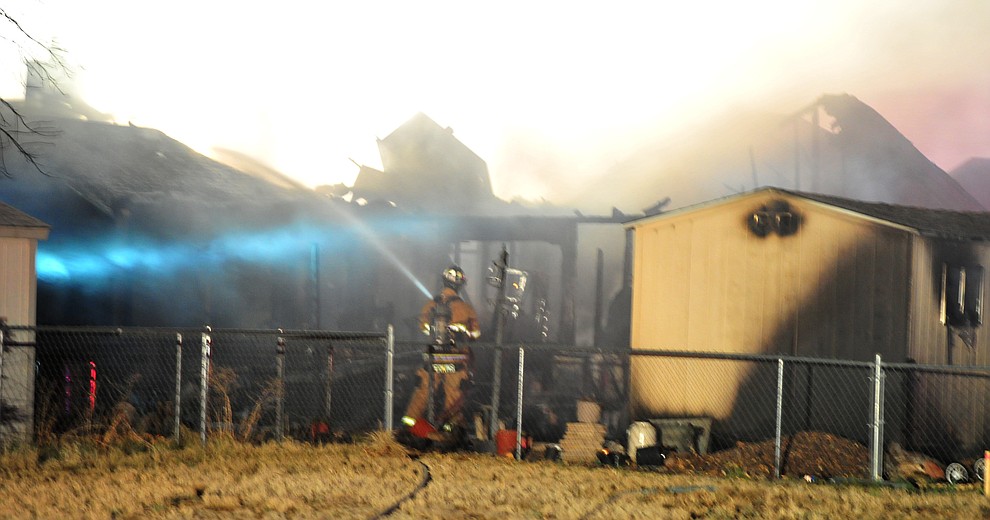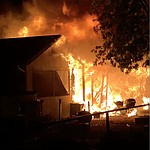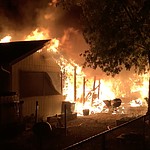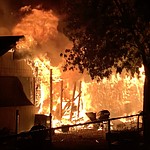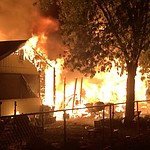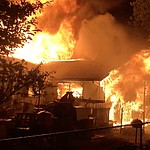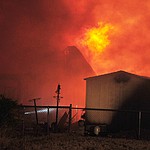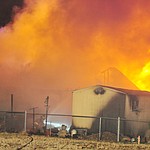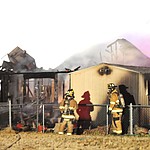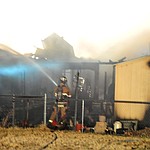 CAFMA crews responded with four fire engines, a utility/support unit, a battalion chief, a safety officer and a fire investigator.
Firefighters worked on the blaze late into the night.
"Crews did a great job keeping the fire from spreading to neighboring residences and structures," CAFMA Fire Marshall Rick Chase said. A firefighter was even left at the scene overnight with some equipment just to keep an eye on the burnt remains of the home it in case something rekindled, Chase said.
No one was home at the time of the call and no injuries were reported.
The following morning, Wednesday, May 9, fire investigators were on scene all day attempting to determine the cause of the blaze. The Town of Prescott Valley assisted the investigators by providing a piece of heavy equipment to better sift through the wreckage with.
As of Wednesday evening, the cause was still under investigation.
Prescott Fire responds to 11 small wildfires on Highway 89
Prescott Fire Department responded to a 911 call reporting a grass fire in the area of Highway 89 and the Granite Dells at about 7:30 a.m. Wednesday, May 9. Two fire engines, a patrol and a battalion chief were dispatched knowing full-well how high the fire danger is currently in the Prescott area, said Prescott Fire Marshall Don Devendorf.
Upon arrival, the first responding crew found four small fires on the east side of the highway, spread out over about 150 yards. While the first fires were being extinguished, additional 911 calls were received reporting multiple fires in the area of Highway 89 and the Antelope Hills Golf Course. Two additional fire engines from Chino Valley, as well as another patrol and chief officer, were dispatched where they found another seven small fires burning along the east edge of the highway. Law enforcement was requested to drive the highway between Prescott and Chino Valley to check for possible additional fires, but none were found.
Most of the fires were small, with the largest being about 50 feet by 10 feet. All were extinguished and had a dirt line constructed around them.
Prescott Fire Marshall Don Devendorf believes the fires were likely started by a vehicle dragging something that was putting off sparks, such as a trailer chain. This determination comes from the fact that there were so many fires, no one saw anyone stopped on the side of the road or throwing anything out of a moving vehicle, and all the starts were where grass was close to the side of the road.
"It should not be a surprise to anyone in the area that we are in a very high fire danger situation right now," Devendorf said. "Our indices for large fire potential are all approaching record levels. Since we cannot change the weather, our only option is to change our behaviors in ways that stand a chance of reducing the possibility of having a fire start."
The small amounts of moisture the area received recently were no help to reducing the fire danger, and neither will any small amounts that come in the future, Devendorf said.
"Small amounts of precipitation cause grasses to grow, that then dry out," Devendorf said. This only increases the amount of easily ignited fuels that fire can move through rapidly.

"We are all in this together until we get our much needed monsoonal weather," he said. "Please take care with actions that could cause damage or injury to you or your neighbors."
Seligman illegal burning results in significant property damage
Deputies with the Yavapai County Sheriff's Office (YCSO) were called to the 53000 block of Carlita Drive in Seligman around 1:30 p.m. Monday, May 7, regarding a fire getting out of control, according to a YCSO news release.
Deputies noted the area is surrounded by grassland and lots of juniper and sycamore trees. Seligman Fire District personnel arrived and had the fire contained to a single property by 2 p.m. The fire damage involved two travel trailers, a mobile home, vehicles and other materials stored nearby.
The property owner, 76-year-old Denis Lentz, told deputies he had been burning trash in a barrel when the fire became uncontrollable and spread, according to the news release. Lentz said he was unable to call for help because he has no working phones. Instead, 911 calls from concerned citizens in the area was what alerted fire and sheriff officials of the situation. Deputies cited Lentz for violation of the Yavapai County ordinance prohibiting open burning.
Seligman Fire personnel remained on scene for an extended period of time to make sure the fire would not reignite.
"The efforts of these firefighters is commended," said YCSO spokesperson Dwight D'Evelyn. "With the amount of fire activity seen around Yavapai County, it is critical that community members honor the current fire bans that are in place."
More like this story
SUBMIT FEEDBACK
Click Below to: