Local pronghorn, other wildlife, struggling through dry year
Be vigilant on roadways as animals are forced to scavenge closer to town

By
Max Efrein
|
mefrein
Originally Published: May 8, 2018 6:05 a.m.
Arizona's wildlife are having an exceptionally tough year.
"We're in the middle of a pretty darn dry period here," said Darren Tucker, wildlife manager supervisor for Prescott at the Arizona Game and Fish Department. "Super, super bad."
The light rains northern Arizona experienced on Tuesday, May 2, and Wednesday, May 3, helped slightly. But the Prescott area has still had one of the driest combined winter/spring seasons on record, according to measurements taken at the Prescott Municipal Airport by the National Weather Service Office in Bellemont, Arizona.
Between Oct. 1, 2017, and April 25, the airport measured 1.44 inches of precipitation — the driest on record for that period of time. The normal for that timeframe is 6.80 inches. If including last week's rain, that still only puts the area at a total of 1.81 inches.
Among other things, this translates to less available drinking water for wildlife and poor growth of plants they rely on for food.
"You just look around, there is virtually zero green-up occurring right now," Tucker said. "Whereas, typically in the spring, it's pretty green and we get a lot of cool-season grasses and the little weeds that grow up that the pronghorn eat on, and that's just nonexistent right now."
This is causing many grass-dependent animals, like pronghorn, to wander closer to major throughways to find sources of water and food.
"We're seeing them inside the right-of-way fence on Highway 89 and 89A, because there's green-up right at the edge of the roadway," Tucker said. "We saw this before in 2002, when it was a really bad drought year."
Tucker has recently even seen pronghorn, which are typically pretty skittish animals, wandering around in neighborhoods and people's yards in Chino Valley and Prescott Valley looking for food and water.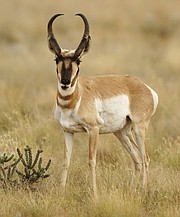 "They're in there far enough that you start to ask yourself: 'Are they going to figure out how to get back out of here?,'" Tucker said.
All of this has led to an increase in road kill, he said. "Road kills happen from time to time, but we've seen a definite uptick in areas where we typically don't get much road-killed pronghorn."
The public safety message is simply that people should be aware of what the weather conditions are causing wildlife to do to survive and give the animals space to do so.
"When it's this dry, there's nothing we can do to prevent them from being in the right-of-way fence or coming into town, because they're going to do what they need to do to find something to eat and drink," Tucker said.
Unless, however, an animal is showing aggressive behavior. In that case, report it to the Arizona Game and Fish Department at 928-692-7700 and they'll either recommend actions to take or send someone out to deal with it.

And, as always, don't try to help the animals, Tucker said.
"I know people have the urge to feed and water these animals, but it's a double-edged sword, it can really make them much more susceptible to something bad happening," he said.
Precipitation levels are not likely to improve until monsoon season rains start falling in northern Arizona, which typically isn't until early July.
"That's the worrisome thing, whether its wildfires or wildlife having to deal with drought conditions, it's tough, because we've got about two months until the typical monsoon season, and that's if the monsoons start relatively on time," Tucker said.
Follow Max Efrein on Twitter @mefrein, email him at mefrein@prescottaz.com or call him at 928-445-3333 ext. 1105.
More like this story
SUBMIT FEEDBACK
Click Below to: