Northern Ace Volleyball team takes 1st in Arizona region
Local Sports in Brief

Originally Published: May 8, 2018 6:05 a.m.
The Northern Ace Volleyball 16-Black team finished first in the Arizona Region, holding a record of 29-1 overall after the April 28 championship division tournament. The final tournament of the club volleyball season is the AAU Las Vegas West Coast Championship on Saturday, May 26, through Monday, May 28. Members of the team include Sam Spengler, Meleya Resnick, Ellie Fenderson, Sydney Rittershaus, Kate Radavich, Katie Kwiatkowski, Mailani Manuel, Jordyn Moser, Jordan Christopherson, Chloe Carr, and are coached by Brittany Wise and Becca Long.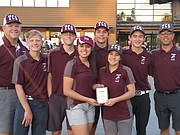 Trinity Christian golf team takes 3rd at CAA state meet May 5
The Trinity Christian golf team finished third overall at the Canyon Athletic Association state golf tournament May 5 at Grand Canyon University Golf Course in Phoenix. Trinity Christian finished with a 370 team score, behind state champ Arizona Lutheran Academy and runner up BASIS Peoria. R.J. Colonel of Trinity Christian finished third overall with a 77.
Youth soccer organization holding local tryouts in May
The Yavapai Soccer Club is holding tryouts for players born in 2009 to 2012 at 5:30 p.m. Tuesday, May 1, at Bob Edwards Park in Prescott Valley, and at 9 a.m. Saturday, May 5, at MVP Pavilion Turf Field. For players born between 2002 and 2008, tryouts will be held at 5:30 p.m. Thursday, May 3, at Bob Edwards Park, and at 10:30 a.m. Saturday, May 5, at MVP Pavilion Turf Field. For more information, email info@yavapaisoccer.com.
Yavapai baseball to hold prospect camp May 13
The Yavapai College Baseball Prospect Camp is scheduled for Sunday, May 13, at Roughrider Park in Prescott. The annual prospect camp's purpose is to promote exposure to Yavapai College as well as all other ACCAC baseball programs. Each junior college from the state of Arizona will be invited to recruit and evaluate talent. This year the two new NAIA baseball programs in Arizona will also be invited to attend the event. The prospect camp is also geared toward sophomores and juniors wishing to get a head start on the recruiting process. Yavapai College currently has players on its roster from this camp. Registration for pitchers and catchers will be at 9:15 a.m. and bullpens will begin at approximately 10 a.m. Registration for position players will begin at noon and the workouts will begin at 1 p.m. The fee for the camp is $50 and for those who sign up on the day of there will be an additional $10 fee for late registration. For more information, contact Yavapai assistant baseball coach Kyle Wise at 928-776-2292, or email kyle.wise@yc.edu.
PATA tennis tournament set for Memorial Day weekend
The Prescott Area Tennis Association is hosting a NTRP Tennis Tournament on Memorial Day weekend, Friday through Sunday, May 26 to 28, at Roughrider Tennis Center in Prescott. Registration is open. For more information, please contact tournament director Dave Hibbs at 406-871-0377, or email onehibbee@hotmail.com. Players can register online at pataonline.org.
Mile High day camp set for June 4-6 in Prescott
The Mile High Baseball School Day Camp is scheduled to take place on the campus of Yavapai College on June 4-6 in Prescott. Participants will receive instruction in baseball skill and technical work, tactics, strategy and games. Players will be placed in groups matching their age and ability to maximize the learning experience. Campers will get instruction on hitting, pitching, fielding and base running. This camp is for players between the ages of 5 and 12. The camp will take place from 8:30 to 11 a.m. each day. The fee is $75 with an additional $10 charge for late registration. The camp capacity is limited to 150 campers. For more information, contact Yavapai assistant baseball coach Kyle Wise at 928-776-2292, or email kyle.wise@yc.edu.
Embry-Riddle summer basketball camp set for June 4-7
The Embry-Riddle men's basketball team invites all local players to participate in its annual Embry-Riddle Men's Summer Basketball Camp on Monday through Thursday, June 4 to 7, on the university's Prescott campus. Players will receive coaching from the Eagles' staff on a variety of basketball skills during the four-day camp. Ages 7-11 are from 9 to 11 a.m. and ages 12-16 are 12:30 to 2:30 p.m. on each day. Cost is $90 per player. For more information, contact Eric Fundalewicz by email at fundalee@erau.edu or Doug Beilfuss at beilfusd@erau.edu.
Prescott Adult Soccer Club looking for players, taking signups
The Prescott Adult Soccer Club is looking for players to join the ranks this summer for coed, recreational and stress-free games. Games are pick-up format and players are required to bring a white and dark shirt for teams. The minimum age is 16. The fee for players is between $3 to $5 players depending on player numbers. The fee goes to the city to help keep the lights on. Games take place on Friday nights weekly at 6:30 p.m. at Heritage Park in Prescott. For more information, call Lucky Chopp at 928-910-2627, or email luckychopp@gmail.com.
More like this story
SUBMIT FEEDBACK
Click Below to: