Editorial: National Guard's Charlie Company has a job to do
Originally Published: May 8, 2018 6:04 a.m.
Photo Gallery
Military parade to honor National Guard Infantry Unit Charlie Company 1st Battalion-158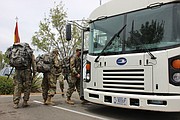 May 6, 2018 military parade in Prescott Valley.
A beautiful show of pride filled the streets of Prescott Valley on Sunday, when the town gave the National Guard Infantry Unit Charlie Company 1st Battalion-158 a parade and grand send-off.
They are headed to Afghanistan as part of Operation Freedom's Sentinel, and 100 of the unit's 400 members have been stationed in Prescott.
Parade participants included the Marine Corps League Honor Guard, Scottish American Military Pipers, Combat Vets Motorcycle Group, American Legion Motorcycle Group, the Prescott Valley Police Department and, of course, the National Guard troops.
The topic arose that it is strange that they are looking forward to deployment.
Think of training for years at something you love and believe in, only to wait.
"A lot of people think it's weird that we look forward to a deployment, but you can imagine just training to do a job for 10 years and never actually getting to do it; we want to be able to do our jobs," said Capt. Eric Terre.
While in Afghanistan, the battalion will be serving as a security force. The deployment is for at least one year, Terre said, adding that the last time the 158 Infantry Battalion deployed was in 2007.
"Wherever they need us, we'll be able to provide additional security for the whole area," Terre said.
It is gratifying to witness such a show of patriotism and professionalism — they've been called and they are going.
We wish them Godspeed, and have confidence in their training and skills.
As it states on the National Guard website: "Take a path with purpose. Be part of something bigger than yourself."
They will make us proud.
Related Stories
More like this story
SUBMIT FEEDBACK
Click Below to:
This Week's Circulars
To view money-saving ads...