Meet the artist behind the stabbed, shot mailbox
Wants to make statements as an artist, he says

Originally Published: May 7, 2018 6:04 a.m.
Just as the sun was beginning to light up Chino Valley early Saturday morning, April 28, a strange sight appeared in the Safeway parking lot — a blue mailbox stabbed on one side, shot on the other and a speech bubble stating three words: "It was email."
The artist behind the piece, Corey Ellis, 36, said the mailbox is the first in a series that's going to be called "What Killed the Past," stating the concept behind this piece is that no one is putting letters out any more. Also, the number of mailboxes in the country has been reduced from 400,000 to 100,000 and the United States Postal Service is struggling, Ellis said.
"I'm always thinking about what the future is doing to us," he said, adding there's nothing wrong with technological advancements. "The mailbox is just strictly to say we need to think about what we're doing. Let's just don't forget about the past."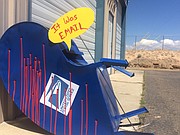 Based in Chino Valley, Ellis said he remembers being taught how to send letters in school, as well as Apple II computers in elementary school and having very limited electronics. He also said he wants to remind people that sometimes it's good to shut everything off and spend time with family. With a wife, three kids and plans to build a shipping container house, family is important to him and it's why he gets up, makes artwork and works for himself, Ellis said.
As a professional artist, he's constantly doing research to find out what people want and are looking for in their art, but he always wants to make statements as an artist, he said.
On the Saturday he left the sculpture in the Safeway parking lot, Ellis said he later moved it to the sidewalk. Afterward, he chained it to a turn only sign by Lantana Plaza, he said.
While Chino Valley Customer Service Supervisor JoAnn Brookins said she was going to have a code compliance officer remove the sculpture on Monday, April 30, Ellis had moved it before someone from the town could do so.
Ellis said he's still moving it around, putting it in random places. Chino Valley Development Services Director Jason Sanks said staff has been hearing about it and while putting the piece on private property is between him and the property owners, it can't be attached to a public sign.
"If it's a public safety issue, we may need to have it removed," Sanks said. "People might be distracted form the signage that they need to safely navigate on our roads … If it gets attached to a sign, our public works team will have to go and remove it."
When the town gets calls about a strange looking mailbox chained to a traffic sign, staff has an obligation to see if it's there and remove it if necessary, he said. Public safety is their top concern and they can't knowingly leave something out there, Sanks said.
Further, though he's not sure of the theory behind the piece, Public Works Director Frank Marbury said obstructing street signs is prohibited and he wants to "discourage anything that might detract or obstruct any sort of regulatory or informational sign on the roadway."
It's an odd scenario that staff doesn't normally see, Sanks said. If someone from the town were to remove it before Ellis moved it, the piece would probably be confiscated and brought back to Development Services, ask that he pick it up and advise him not to do it again, he said. There's no reason to get heavy handed though if it keeps happening, he'd have to check on enforcement and review what would need to be done in the name of public safety, Sanks said.
There's a reason the sculpture was in plain view for people to see as well as why his future pieces will be that way too, Ellis said.
"The whole concept of me leaving them out is for everybody to see them," he said. "Most of my stuff is either in office buildings or personal collections, and it doesn't really get exposure."
When it's out in public, all it takes is for one person to complain, Ellis said. When driving up and down Highway 89, he probably sees two dozen or so signs next to stop signs or turn signals advertising store or services and no one else has any problem, he said. Also, he's gotten a few phone calls from the police who already had his number, Ellis said. Theoretically, they could have had it impounded, but what about the bicycles locked up to signs, he said.
Federal officials have also inquired about the piece, but he created it and did not destroy an actual post office mailbox in any way and the logo has been altered from its original look, Ellis said.
Personally though, if he was someone who just happened to see the mailbox, he would probably pull over and take pictures of it, Ellis said. Yet, his artwork isn't even about that and there's been a lot more artwork that have been stoppers to begin with, he said. The horses on the roundabout coming into Chino have probably caused a lot of people to slow down and take pictures, Ellis said.
When it comes down to it, art is the first thing picked up and stored when civilizations are being destroyed, he said. Good art elicits a reaction, Ellis said.
"It makes you move, it gives you a feeling and it's just there," he said. "You don't have to feed it. You don't have to water it."
More like this story
SUBMIT FEEDBACK
Click Below to:
This Week's Circulars
To view money-saving ads...