'What the Food' documentary, a SCORE collaboration
Ginni Trask Comstock, Special to the Courier
Originally Published: May 6, 2018 6:02 a.m.
Karen van Barneveld — entrepreneur, potter, seamstress, author and Yoga instructor, sometimes known as Karen vanPrice and self-described "food activist friend" — is following her passion for a clean, healthy, GMO-free diet for the planet with help from SCORE, a nonprofit that provides free business-mentoring services to prospective and established small business owners in the United States.
Van Barneveld's book, "God Made Organics, Not GMOs," is available through Amazon.com.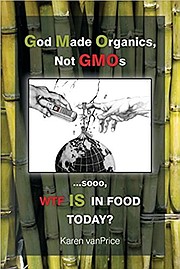 Long an advocate for wholesome food, she began her research about 20 years ago, when she read in "The Mars, Venus Diet and Exercise Book," by Dr. John Gray. The book details how chemicals leftover from WWII were marketed by the U.S. government to farmers as a way to increase crop production and reduce pests. But the chemicals depleted minerals and nutrients in the soil, resulting in foods that offer less nutrition.
Van Barneveld says her children and 14 grandchildren have been severely and adversely affected by addiction and food-related allergies. The issues they suffered included ADD, ADHD, IBS, depression and food sensitivities.
Her extensive search for a solution led her to learn about the wide-spread use of GMOs (genetically modified organisms), which began in 1996. As she and her family began eating organic, GMO-free food, she saw a vast improvement in their health. This encouraged her to continue her research, and she eventually published her book.
Now, van Barneveld is determined to spread the word through developing a documentary film series — the first of its kind based on those who have come to this area to recover from various addictions. She felt that Prescott, with its new (and unwanted) title as the recovery capitol of America, was the best place to begin.
For this extensive project, van Barneveld required funding and a business plan. This need led her to SCORE, where she was matched with Dick Milon, who has a background and expertise is in the food industry. Van Barneveld and Milon began organizing and developing marketing for the film "What the Food?," the first in the docu-series. Van Barneveld has also teamed for the docu-series with award-winning documentary filmmaker Windy Borman.
Van Barneveld insists that the food we eat affects us directly and indirectly. She says a range of health issues result from compromised nutrition. Indirect results are monetary and include the costs of medical care, insurance costs, the lack of stamina needed to work and earn a living.
To contribute to her project, visit the website www.whatthefoodfilm.com to make either one-time donation or provide funding for ongoing meals.
Van Barneveld said she has fronted more than 10 percent of the cost needed to get the project underway. Much of the food will be provided by local farmers who grow their GMO-free crops without pesticides.
By April 26, she had reached her first $10,000 funding goal and can now continue pre-production of the film. With additional funding, her documentary team can provide structured meals to addicts who have agreed to consume only organic, GMO-free foods.
"What the Food?" when produced, will provide a new perspective on addiction and recovery and deliver to audiences the power of informed choice, van Barneveld said in a statement.
To get help starting, marketing or growing your business and to be matched with your own SCORE mentor call 928-778-7438 email: scoreoffice@scorenaz.org or go to www.northernarizona.score.org.
Ginni Trask Comstock is a SCORE Communications contractor.
More like this story
SUBMIT FEEDBACK
Click Below to: