Easter candy tradition, what is your favorite jelly bean? (Poll)
Buttered-popcorn jelly beans outselling licorice as most popular this year

By
Nanci Hutson
|
HutsonNanci
Originally Published: March 31, 2018 6:02 a.m.
Reader poll
Blueberry

6%

Buttered popcorn

3%

Cherry

11%

Chocolate

0%

Cinnamon

10%

Coconut

8%

Cotton candy

4%

Green Apple

4%

Licorice

27%

Orange

7%

Peach

2%

Juciy pear

6%

Strawberry

3%

Watermelon

4%

Other

3%
89 total votes.
For many adults and children alike, jelly beans are a national Easter tradition.
Even if they are not the most popular, year-round candy, they apparently tend to be a must for the celebration of spring that connects with the most holy of Christian religious observances.
CandyStore.com has analyzed national sales data over the last decade and surveys of more than 12,000-candy customers to rank the favorite jelly bean flavors in America.
The website's information culled some interesting facts: Americans consume more than 16 BILLION jelly beans on Easter. This year, Easter falls on April 1, and National Jelly Bean Day — yes, there is such a thing — is on April 22.
So what are Americans' favorite flavors? Well, that was part of the survey and the results might prove a surprise to jelly bean lovers everywhere.
The traditional licorice has been replaced this year with buttered popcorn. It is still in second place, but it's not the top national bean anymore — or at least not this year.
Licorice is still the fave flavor in Alaska, Colorado, Kentucky, Minnesota, New Jersey, North Carolina, North Dakota and Tennessee, and third place in Alabama. In Arizona buttered popcorn is the most popular, with the state in sync with Arkansas, California, Connecticut, Georgia, Michigan, Missouri, New York, Ohio and Texas.
At The Daily Courier, you'll be happy to know, as with all issues, we are an eclectic bunch.
Licorice looms the favorite for reporter Sue Tone and copy editor Susan Washington, with News Content Director Richard Haddad, Community/Senior Editor Tim Wiederaenders and Sports Editor Brian Bergner Jr. opting for any jelly bean flavor except licorice. Reporter Scott Orr and yours truly share a similar aversion to the black beans. Some jelly bean sellers actually try and trick you with white licorice-flavored beans.
"I love so many flavors of jelly beans, I don't know why they add in the licorice flavor," Haddad said of the mixed bags. "That's like having a worm in the apple."
Reporter Jason Wheeler likes watermelon, a southern favorite, as well as other fruity flavors. Orr enjoys cinnamon beans. Reporter Cindy Barks isn't much of a jelly bean fan, but admits buttered popcorn is pretty tasty.
Reporter Max Efrein is not a candy eater, preferring healthier fare — think avocados. Yet he does enjoy the weird and unusual. So he could not resist taste-testing a box of the Jelly Belly's Harry Potter Bertie Bott's Every Flavour Beans. He said he was impressed with how the jelly bean makers were able to mimic such flavors as dirt, rotten eggs, and some other pretty disgusting flavors — skunk spray for a bean that looks like black licorice.
"It still is candy, but it evokes the flavor of something disgusting," Efrein said.
Newsroom graphic designer Matt Van Doren is a Jelly Belly BeanBoozled aficionado. The father of two young daughters, Van Doren has played the BeanBoozled games with his children and relatives. The game is to try and distinguish between the regular flavor beans that are mixed up with matching ones that boast tastes like dirty socks, grass clippings, and other nasty flavors that ought not to be mentioned in polite company.
"My girls freaked out and said, 'No,' I will not eat that one — moldy cheese — but all my nieces and nephews were happy to gag with me over the gross ones," Van Doren said.
Beware: buttered popcorn can be confused with rotten egg flavor.
Pralines of Prescott candy store owner John Babb and Treat Center on Whiskey Row owner John Gasper said the national survey that shows buttered popcorn as the favorite jelly bean flavor these days proves out in their stores.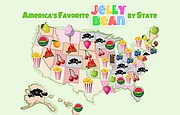 Though Babb's shop in the Bashford Court mall leans more to chocolates, he said he offers six bulk Jelly Belly jelly bean flavors for the Easter and summer season — Cotton Candy, Grape Crush, Green Apple, Blueberry, French Vanilla and Very Cherry — as well as another eight pre-packaged flavors: Buttered Popcorn, the Cold Stone Ice Cream Parlor, Raspberries and Blackberries, Licorice, Dr. Pepper, Soda Pop Shoppe, Kids Mix and 20 flavors. Gasper sells a full line of Jelly Belly packaged products; buttered popcorn being a top seller.
"I go through twice as much buttered popcorn as I do any other flavor," Babb said. "I have to order that twice as often."
As for his own personal taste, Babb said he is not a huge jelly bean fan, but he does like the buttered popcorn flavor; he also likes Dr. Pepper.
Why?
"It really tastes like buttered popcorn," Babb said.
Take our reader poll, What is your favorite jelly bean flavor?
Related Stories
More like this story
SUBMIT FEEDBACK
Click Below to: