Chocolate Easter bunny still top seller for Easter baskets

By
Nanci Hutson
|
HutsonNanci
Originally Published: March 31, 2018 6:01 a.m.
Easter is a Christian religious observance that coincides with the beginning of spring.
As part of the rite of spring, Easter baskets are filled with treats, particularly things associated with bunnies and eggs, and can be found in chain and specialty stores.
For the young and young at heart, a visit from the "Easter Bunny," or even a photo session with the oversized, floppy-eared character, are often mixed into the season.
At the Treat Center on Whiskey Row, owner John Gasper said the nice weather preceding the holiday has prompted lots of visitors eager to taste one of their multiple favors of ice cream. Some of the customers are buying packages of their well-stocked supply of the Jelly Belly brand jelly beans — buttered popcorn a favorite this year and fitting for a shop that specializes in every possible type of popcorn one might consider.
What you won't find at the Treat Center, but will find at a couple other locally owned candy makers, is chocolate bunnies, eggs and the like.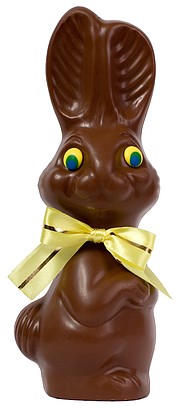 Gasper said they do make a few bunnies out of chocolate fudge but that's not their stock in trade.
Around the corner at 218 W. Goodwin Street is a new shop, Black Butterfly Artisan Chocolates, specializing in fancy chocolates, in particular Venezuelan chocolate, made on the premises into a wide array of confections.
For Easter, owner Tracy Taylor has a Velveteen rabbit sitting on a chunk of chocolate; its head made out of solid dark chocolate with a hollow body filled with a combination of milk and dark-chocolate, hand-rolled truffles.
Taylor also has some other Easter, or spring-themed, candies, including a variety of flavored eggs and bunnies filled with hand-rolled truffles. Some of the more intriguing: a sunny side up egg made out of white chocolate with a yoke-colored white chocolate center topped with a mango bon bon and a crème' Brule-flavored chocolate egg with champagne ganache and then the outside "shell" is decorated in 24-carat gold.
As this is her first spring season — Taylor opened the shop in June — she is trying out different combinations of flavors that she knows will be something her customers have never had before, but she hopes will want again and again.
At Pralines of Prescott on the third floor of the Bashford Court mall, owner John Babb makes all the chocolates sold in the store, including their own chocolate peanut butter cups, and little half-eggs in various butter cream flavors. At Easter, those are his top sellers.
Of course, all of the local grocery and discount stores have aisles devoted to Easter with every imaginable type and brand of candy and chocolate.
In one national survey of some 1,300 adults, conducted by TopCashBack.com, just under 50 percent considered the chocolate Easter bunny as a staple of Easter baskets, with 73 percent spending between $1 and $50 on Easter gifts, including Easter egg hunts.
Beyond the chocolate Easter bunny, these are the survey's top Easter basket fillers: plastic eggs filled with candy or coins, marshmallow Peeps, and small toys.
The top Easter traditions: about 40 percent say it is spending time with family, 14 percent observe it as a religious occasion; 13 percent dye Easter eggs for Easter egg hunts; and 6 percent enjoy special meals.
Related Stories
More like this story
SUBMIT FEEDBACK
Click Below to: